Leiweke's New Look
AEG vet and music man Azoff bring $100M backer; partner with MSG on arena-sized challenge
Friday, April 6, 2018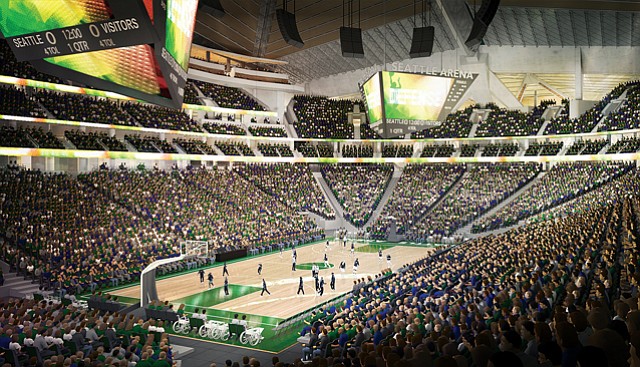 Los Angeles — Tim Leiweke watched in December as the Seattle City Council swiftly approved his company's $660 million plan to revamp the KeyArena, and possibly lure the National Basketball Association and National Hockey League.
The council's action marked a milestone for Westwood-based Oak View Group, or OVG, a sports and entertainment facilities company founded in late 2015 by Leiweke, the former president of Anschutz Entertainment Group, and Irving Azoff, a legendary talent manager and former chairman of Live Nation Entertainment Inc.
"We will be of Seattle, by Seattle, for Seattle, from Seattle," Leiweke had said amid Oak View negotiations with the city. "We are Seattle."
Close observers of Oak View say that the company could become a force in live entertainment management, an industry galvanized by the music business's focus on live events and the growing profitability of sports leagues including the NBA.
The firm already enjoys an alliance with Madison Square Garden Co., and poses a possible rivalry with Leiweke's former employer, downtown-based AEG, a global presence in live entertainment.
Menlo Park-based private equity group Silver Lake poured a reported $100 million into Oak View for an undisclosed share of the business last month.
But Oak View's success – in Seattle, Los Angeles or elsewhere – is not guaranteed.
One possible roadblock is that there doesn't appear to be a market in Los Angeles for new venues or facilities renovations, according to Gary Toebben, president and chief executive of the Los Angeles Area Chamber of Commerce.
"I've talked to Tim, but none of his possible projects are in Los Angeles," Toebben said, adding that current facilities projects – for example, renovations to the United Airlines Memorial Coliseum – do not include Oak View.
Oak View also seems foreclosed from playing the long game on developing 2028 summer Olympics projects.
"There is no current Olympic work," said Matt Rohmer, spokesman for LA2028, the organizing committee for the 2028 L.A. Olympic bid. Rohmer said that the games can be produced using existing venues.
Leiweke declined comment through a spokesman, citing schedule conflicts. Requests to interview Azoff or have the company answer specific questions were not returned.
Center stage
Leiweke became president of AEG in 1996, and his role coincided with the company's development of the Staples Center and LA Live. Leiweke's local profile hit a high point during efforts to bring a National Football League team and stadium downtown. But the football stadium plan unraveled, and in 2013 AEG founder Philip Anschutz fired Leiweke for reasons AEG has never discussed. AEG declined comment for this story.
For reprint and licensing requests for this article, CLICK HERE.
Prev Next