Keck Foundation Donates $20 Million for Chapman University Science Building
Thursday, September 28, 2017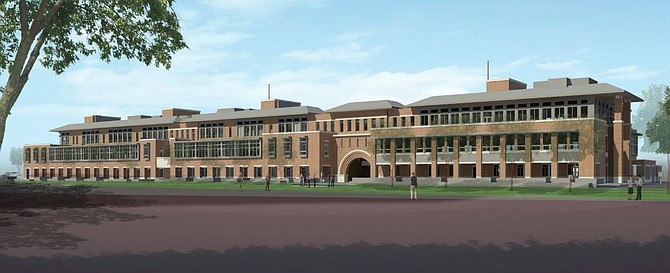 The W.M. Keck Foundation donated $20 million to Chapman University for a new center for science and engineering, its largest and most expensive building on campus, the institutions announced Thursday.
The gift from the downtown Los Angeles foundation led the Orange County university to name its $130 million building The Keck Center for Science and Engineering.
The new donation follows $2.5 million in Keck Foundation support for Chapman over the past decade. The charitable institution was founded in 1954 by William Myron Keck, founder of The Superior Oil Co. Since its inception, the nonprofit said it has buttressed pioneering discoveries in science, engineering and medical research.
"For more than 60 years, the W.M. Keck Foundation has been investing in high-impact scientific endeavors," Chief Executive Robert Day said in a statement. "Given Chapman's incredible growth in STEM-related fields, we are proud to partner with Chapman to build a center to serve exceptional students and scholars for generations of scientific achievements."
The 140,000 square-foot center, to serve as home for a Schmid College of Science and Technology and a new Fowler School of Engineering, is slated to open in Fall 2018.
Keck, with assets of $1.1 billion, has imprinted its name across university science and medical centers across Southern California, including a Keck School of Medicine of USC, a Keck Institute of Space Studies at Caltech, and a Keck Graduate Institute of Applied Life Sciences at the Claremont Colleges.
"There is no more prestigious name Chapman could put on its science building than that of the Keck Foundation," said Andrew Lyon, dean of the Schmid College, which will include 40 teaching and research labs. "The Keck name is synonymous with science innovation and discovery, and will add tremendous moment to the sciences at Chapman."
Health business reporter Dana Bartholomew can be reached at dbartholomew@labusinessjournal.com. Follow him on Twitter @_DanaBart.
For reprint and licensing requests for this article, CLICK HERE.