Space Jam
New labs seen as fuel for L.A. biotech
Friday, October 6, 2017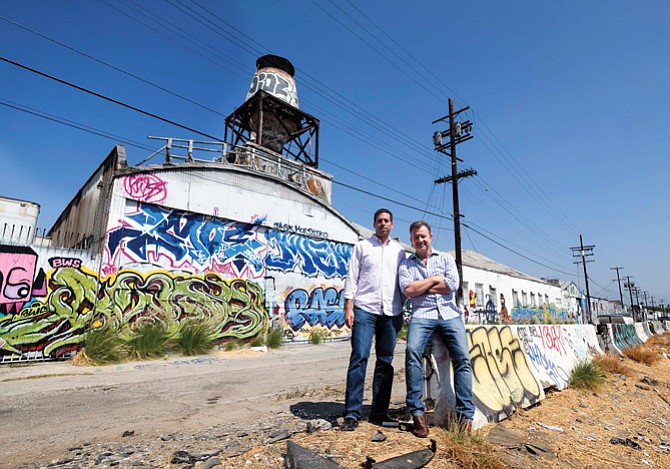 Developers Allan Glass and Howard Kozloff saw a former furniture factory in northeast Los Angeles and envisioned a biotech lab built for would-be entrepreneurs.
Now they're making that vision a reality.
The pair purchased the graffiti-slathered property in 2016 for $2.3 million and are spending some $3.7 million to renovate the site as part of the planned Hatch BioScience Labs project, a ready-to-use lab facility – known as a wet lab – for early-stage biotechnology firms. The 22,000-square-foot building is nestled between Cal State Los Angeles and USC's Health Sciences Campus in the El Sereno district, where Glass and Kozloff believe the lab will be an important cog in a burgeoning bioscience corridor.
"We'd love to be the axle in the L.A. bioscience hub," said Glass, chief executive of ASG Real Estate Inc. in Brentwood.
The Hatch lab, set to open late spring 2018, is part of a greater regional effort to alleviate a shortage of biotech incubator space in Los Angeles, which insiders said has hampered market growth.
A lack of affordable research space at facilities to develop new drugs and other biotech products has sent legions of L.A.-area university science graduates planning to start new companies to markets such as Boston, San Diego and the Bay Area, according to industry veterans.
"The L.A. region has a lot of talent at its universities," said Carolyn Hull, vice president of industry development at the Los Angeles County Economic Development Corp. "The problem is physical space. They can't find enough laboratory space to meet their needs, at price points that work for them."
That's the market gap Glass and Kozloff want to exploit.
Most wet labs in the greater L.A. region rent bench space – a term for a certain, limited work area within a shared research facility –for between $20 and $30 a square foot. The two developers said they plan to charge companies looking for a full suite around $4 a square foot – a price competitive with similar space in other biotech hubs in San Diego and the Bay Area.
"It's an adaptive re-use project, using the original building to accommodate the 21st century biosciences lab facility," said Kozloff, managing partner for Agora Partners in West L.A. "We think it'll pencil out."
History Lesson
The L.A. area was poised to become a biotech powerhouse nearly four decades ago, with Thousand Oaks-based Amgen Inc. churning out biopharmaceuticals breakthroughs. But Amgen's relatively remote suburban location and a traditional, self-reliant corporate model led to few spin-off companies, according to the book "The Rise and Fall of Urban Economies: Lessons From San Francisco and Los Angeles," co-authored by Michael Storper, distinguished professor of regional and international development in the Urban Planning Department at UCLA.
For reprint and licensing requests for this article, CLICK HERE.
Prev Next