Port of Long Beach Awards Community Sponsorships
Tuesday, May 23, 2017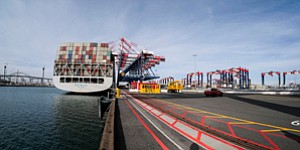 The Port of Long Beach has awarded more than $372,000 in community sponsorships to 136 organizations in the latter half of the fiscal year, port officials announced on Monday.
Over the fiscal year, which began on Oct. 1, the port has awarded more than $911,000 to 272 groups. The port's community sponsorship program is designed to educate the public about the port's role in international trade by partnering with local nonprofit organizations.
The funds are received by the participating organizations in the form of reimbursements. Sponsorship applications, which can be found on the port's website, are accepted from community groups twice a year, in March and September.
"It's important for us to support the diverse groups and events that make Long Beach a great place to live and work," Lori Ann Guzmán, president of the Long Beach Board of Harbor Commissioners, said in a statement. "These sponsorships represent our commitment to bettering this community, while teaching people more about the work we do on their behalf."
The events sponsored include Latinos in Action, Long Beach Camerata Singers, St. Mary Medical Center Foundation's charity golf tournament, and the Historical Society of Long Beach's Historical Cemetery Tour, port officials said.
Manufacturing and trade reporter Shwanika Narayan can be reached at snarayan@labusinessjournal.com. Follow her on Twitter @shwanika.
For reprint and licensing requests for this article, CLICK HERE.