DEVELOPMENT: HOMES BY PAUL MCLEAN CAN GO FOR HUNDREDS OF MILLIONS.
Architect Follows Career Blueprint to High End
Friday, May 19, 2017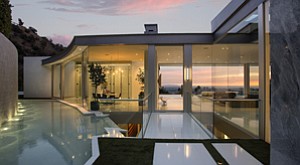 When developer Nile Niami decided to build a $500 million, 100,000-square-foot spec home in Bel Air, he turned to Irish architect Paul McClean, whose contemporary, glass-dominant style has shaped numerous megamansions in Los Angeles. Those include the spec home at 454 Cuesta Way in Bel Air for which Beyoncé Knowles Carter and husband Shawn "Jay Z" Carter reportedly submitted a $120 million bid in April. Calvin Klein purchased one of McClean's properties in the Hollywood Hills for $25 million in 2015, while Tyler and Cameron Winklevoss, whose lawsuit against Mark Zuckerberg was made famous in 2010's "The Social Network," also bought one of his houses in the Hollywood Hills' Bird Streets area in 2012 for $18 million. McClean spoke to the Business Journal about the Niami home, set to be completed around the end of the year, and issues facing the L.A. housing market.
You have said that the most interesting homes are built in L.A. Why?
When you want to do the type of houses I do, which connect to nature and try to break down the barriers between indoors and outdoors, we're in the perfect climate for that. We often make our homes with disappearing walls of glass. It's hard to know when you're truly inside or outside.
Why would anyone spend $500 million on a home?
If you do houses for sale, you have to create a strong emotional connection that will make someone want to spend that type of money. We use landscaping, water, entry courtyards, bridges – all these types of devices to separate you from the day to day of the city and give you a unique feeling.
Where does most of your business come from?
During the recession, back in '08 and '09, we started getting more calls for houses in L.A., and as time went on, that became our biggest market. We do half custom homes and half homes for sale.
Does your vision for a home ever clash with the client's?
With all our clients – homeowners and developers, they come to us because they like the type of design we do. Otherwise they would go somewhere else. We try and listen carefully to what their own dreams and desires will be. We want it to be about them. Our innate style sensibility finds its way through.
These huge homes, megamansions, have received backlash from local residents and politicians. What do you think about that?
Prev Next