Development at Crossroads
REAL ESTATE: Review of project impact underway.
Monday, May 15, 2017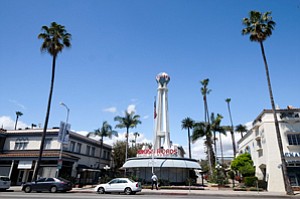 David Schwartzman has a bold vision for merging old and new in Hollywood, aiming to pump a half-billion dollars into restoring the historic Crossroads of the World complex and building the biggest mixed-use development in Hollywood history.
But the chief executive of Harridge Development Group is now girding for an uphill battle as community members scrutinize the project's draft environmental impact report released last week.
Dubbed Crossroads Hollywood, the development would plunk three skyscrapers into a mostly low-slung pocket of Hollywood, replacing decades-old storefronts, offices, and apartment complexes. According to the EIR, this high-density construction would worsen congestion and wipe out historic buildings – the very pressure points that have sparked red-hot debate over other Hollywood mega-projects.
"It's a very ambitious project, one that aims to revitalize a historic structure, Crossroads of the World, in an area that could stand to see some upgrading," said Leron Gubler, president of the Hollywood Chamber of Commerce. "But at the same time, because of the size of the project and the associated issues, it will definitely generate some opposition. It's not going to be a slam dunk."
Estimated by Harridge to cost between $500 million and $600 million, the project would span nearly 8 acres just west of the Crossroads of the World retail and office area, roughly bounded by Sunset Boulevard, Highland Avenue, and Selma Avenue.
Harridge's plans call for a 26-story tower with 308 hotel rooms; a 30-story tower with 190 condominiums; four apartment buildings totaling 760 units, including a 32-story tower and three six-story buildings; two low-rise buildings offering 95,000 square feet of office space; a restaurant at Crossroads of the World; and an underground garage with nearly 2,500 parking spaces.
Ground-floor stores and restaurants would take up 185,000 square feet throughout the project.
The proposal comes as Hollywood has experienced a burst of development. Over the next five years, 6,100 apartment units, 3,000 hotel rooms, and 2 million square feet of office space are expected to come online in the neighborhood, said John Tronson, principal at Avison Young. But anti-density activists have filed lawsuits to block several mega projects, including the Palladium Residences, Millennium Hollywood, and 8150 Sunset. A Target store has also sat half-constructed for several years, stymied by neighborhood opposition and a lawsuit.
With 1.43 million square feet, Crossroads would be larger than the $615 million Hollywood & Highland shopping and entertainment complex completed in 2001.
"It's a very bold endeavor," Tronson said. "Anything that big typically does raise some red flags to anti-development groups that have been litigating against these big projects."
For reprint and licensing requests for this article, CLICK HERE.
Prev Next