DEVELOPMENT: VILLAGE COMPLEX ALSO WILL BRING RETAIL.
USC Books Expansive Student Dorm Project
Friday, May 5, 2017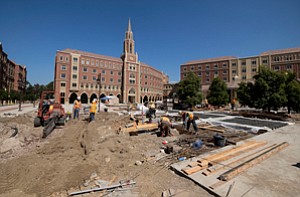 By the time USC students hit the books in the fall, 2,700 of them will be taking up residence in new dorms at USC Village, a cluster of collegiate Gothic buildings set on 15 acres north of campus.
The $700 million project, the university's single largest such venture in its 137 years, might encourage developers to take a second look at surrounding neighborhoods that have long been neglected, local real estate professionals said, despite the challenge of assembling development sites in a dense area.
"Any development of this magnitude gets people's attention," said Jamie Brooks, a CBRE vice president. "This is a neighborhood that since 1992 was historically ignored. It ultimately will drive more jobs, more housing, and more retail."
USC Village is replacing University Village, an outdoor shopping center built on the site of a former meatpacking plant at Hoover Street and Jefferson Boulevard, according to USC's Master Planning website. Demand for new student housing drove the university's decision to tear it down.
"We have more students living within a one-mile range of campus than ever before," said Laurie Stone, USC's associate senior vice president for real estate and asset management. "It has changed dramatically, to where it's much more of students coming from not only Southern California but also from all around the state, from the United States, and internationally."
Funding for USC Village derived mostly from donations and the university did not use construction loans, Stone said. Since launching an aggressive fundraising campaign in 2011, USC has raised nearly $6 billion and is allocating $1 billion for development.
USC Village will boost the university's bed tally to nearly 10,000 from 7,000. The school enrolled 19,000 undergraduate and 25,000 graduate students in the 2016-17 academic year.
The project's 134,000-square-foot retail component will be anchored by Trader Joe's and Target. Other tenants are slated to include eateries Trejo's Tacos, Cava Grill, and Rance's Chicago Pizza, shoe repair shop Village Cobbler, Sole Bicycles, Bank of America, and Starbucks.
"We tried to make it something that would be interesting and enticing to a broad range of people – USC community and neighborhood community, all in one," Stone said.
She would not disclose asking rents, but Derrick Moore, a principal at Avison-Young and the leasing broker for Canfield Development Inc.'s Element apartment and retail complex nearby on Hoover, said monthly retail rates in the area range from $3.50 to $4.50 a square foot, although USC Village's rates would be higher. He also noted that some businesses that could not pin down USC Village leases are looking at Element, which caters to students.

Prev Next