SOLE FOCUS
Shoemaker Comunity Takes Steps to Support Social Responsibility
Friday, May 5, 2017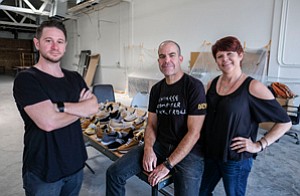 As new downtown shoemaker Comunity prepares to roll out its first inventory next month, the company is modeling its philosophy of social responsibility on that of two of its co-founders' former employer, Toms Shoes.
Comunity plans to give to area charities with each sale and is supporting the region's struggling manufacturing sector by making its products locally.
Sean Scott, Toms' former chief shoemaker, founded Comunity last year with his wife, Shannon Scott, and business partner Ryan Gumienny, who also worked at Toms. The trio has more than 70 combined years in the shoe industry, and their collective work experience includes stints with Asics Corp., Nike Inc., Vans Inc. and Sanuk.
With a 3,500-square-foot headquarters at 584 Mateo St. in the Arts District, they've partnered with Alexander Zar of Boyle Heights manufacturer LalaLand Design and Production to make the shoes locally.
"There are not many companies left in Los Angeles where we can source and manufacture our shoes, so when we found Alex, we knew we had to partner with him," said Gumienny, who heads design and development for Comunity.
Comunity's first batch of 2,000 casual athletic shoes is expected to be delivered in June, around the time the company plans to go live with online sales, he said. The shoes will retail from $150 to $180.
The co-founders bootstrapped the business and are its primary funders, backed additionally by a $36,000 Kickstarter campaign they said would enable them to fund the first production run and help build brand buzz early on. The trio declined to say how much money they have sunk in the business.
Comunity imports leather from Italy and cushioning materials from China, with all of the shoe fabrication done in Los Angeles, Gumienny said. The co-founders were keen on manufacturing locally and it helped that Zar's factory was five minutes away from their office.
Zar said the deal with Community would add about 5 percent to his $4 million-a-year business, about $200,000.
He said he works with about 15 brands that make shoes in Los Angeles, including Newbark and Marais.
"When Comunity came to me about five months ago, I was happy to help since our companies' philosophies about making products locally match," he said. "Receiving orders from companies like Comunity are imperative for me as it helps me as a manufacturer and in turn helps my workers."
Zar also makes high-end leather bags and purses.
Scott said Comunity's philosophy of social responsibility was strongly influenced by his time at Toms.
Prev Next