VIDEO: HOLLYWOOD-STYLE PRODUCTION BIG SELLING POINT FOR PATH CONTENT GROUP.
Pricey Interview Service Hopes to Speak to Execs
Friday, May 5, 2017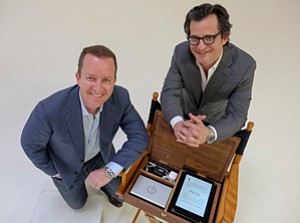 While it's easier than ever to capture life's golden moments on a smartphone, West L.A. startup Path Content Group is betting that individuals who can afford it would prefer to record their memories for posterity in a documentary-style video that looks and feels like a Hollywood production.
A big selling point for Path is that customers have the opportunity to be interviewed by Ben Mankiewicz, host of "Turner Classic Movies," on a professional set. Recent clients include Andy Cohen, co-chief executive of downtown architecture firm Gensler; restaurateur Craig Susser, owner of Craig's restaurant in West Hollywood; John Nickoll, former chief executive of Santa Monica's Foothill Capital Corp., and Los Gatos philanthropist Myra Reinhard.
Mankiewicz said that while Hollywood celebrities have their stories recorded more often than they might want, business leaders with perhaps more significant impact on society rarely get the same opportunity.
"We're talking about lives you can't go on YouTube for," he said. "For celebrity culture, enough of their stories have been told. … These are people who have led impressive lives and their stories are not out there."
While the company has produced videos for people from all walks of life, the works come with a hefty price tag: an average of $75,000 to $100,000 for a 90-minute video. Path, which launched about a year ago, unites Mankiewicz with TV producers Andrew Jameson and Bryan Stratte as managing partners. The company is spearheaded by Lewis N. Wolff, a billionaire real estate developer and chairman emeritus of pro baseball's Oakland Athletics.
Although his family was encouraging him to record his memories, Wolff was frustrated by the long commitment of engaging a ghostwriter for a book. So, he asked Jameson, a friend, to produce a legacy video for him. Jameson brought on Mankiewicz to do the interview. Wolff and his family were so impressed that he suggested turning the process into a business.
Wolff, 81, has invested $2 million into the company. Other investors include Wolff's longtime hotel investment partner Philip Maritz. The pair co-founded St. Louis-based investment group Maritz Wolff & Co., which also has an office in West Los Angeles. One recent Path client, David Alden, founder of Long Beach home textile company Foreston Trends, is also a backer.
Each video requires a production staff of 15 people, including a union stage crew and a team to conduct extensive pre-interviews before the subject goes on camera for a conversation with Mankiewicz that typically lasts between four and seven hours.
Prev Next