Rival Puts Bite On 'Superfood'
FOOD: Overseas buyer grabs Essential Living on the cheap.
Friday, March 10, 2017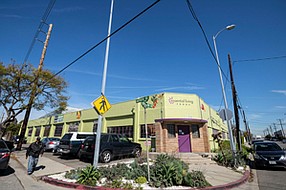 An Ecuadorean healthy snack food company has swallowed a Culver City seller of exotic nutrient-dense "superfoods" such as Brazil nuts and goji berries.
Essential Living Foods Inc. was purchased out of bankruptcy for $1.5 million by Terrafertil Holdings Group, according to U.S. Bankruptcy Court records. The transaction, announced this month, will allow Essential Living, which sells its products to Whole Foods Markets and Costco Wholesale Corp., to continue operating and will provide it with funding to keep growing, parties involved in the sale said.
Kipp Stroden, Essential Living's former chief executive and a co-founder of its former majority shareholder, BeOn Holdings Inc., said the sale "came as a result of having a difficult relationship with one private equity investor, which sued the company and made it difficult for the company to raise money. We wanted to create an optimum liquidity event for Essential Living."
The deal gives Terrafertil, which sells its products in Europe and Latin America, and generated sales of around $70 million last year, a foothold in the United States as the market for superfoods blooms.
Essential Living declared bankruptcy after it was sued by Pegasus Capital Advisors, a Greenwich, Conn., private equity firm that alleged mismanagement of the company. The lawsuit hindered Essential Living's ability to raise capital, according to court documents.
The health food company, which had eight employees, reported in its bankruptcy filing that gross revenue declined last year to $6.44 million from $7.6 million in 2015.
That roughly 15 percent decline came as the industry overall grew.
The class of foods categorized as "superfood" is broad and unscientific, and industry data is inexact. But the number of new foods and drinks containing the words "superfood," "superfruit," or "supergrain" worldwide increased 202 percent between 2011 and 2015, according to a report last year from market research firm Mintel Group. Thirty percent of those products were launched in the United States in 2015.
Terrafertil, co-founded by brothers David, Raul, and Daniel Bermeo with their cousins Jonathan and Ramon Bermeo, placed a stalking-horse bid on Essential Living in December and the deal closed Jan. 13.
Both Terrafertil and Essential Living were launched around 2004 and the companies say they look to support farmers in Latin America and other regions from which they source products.
Terrafertil sells "goldenberries," a small orange fruit with high iron content grown in Ecuador and Colombia, and trail mixes.
"We grew up together," CEO Stroden said of Essential Living and Terrafertil. "They're spearheading the growth of the superfood movement of food as medicine. People are wising up to the fact that you are what you eat."
Prev Next
Page 1 of 2.