KCETLINK MEDIA GROUP JOINS WITH GRAND CENTRAL ART CENTER IN ALL-AT-ONCE RELEASE FOR 'VIREO.'
Opera Partnership Plays to TV Viewers
Friday, June 30, 2017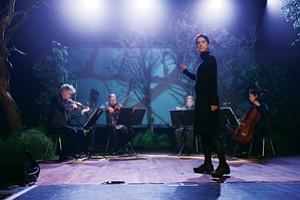 Move over, Netflix. There's some competition in the production of binge-watching episodic content.
It comes from a partnership between Burbank-based KCETLink Media Group and Grand Central Art Center, which is part of Cal State Fullerton.
The first production of this joint venture is a made-for-TV opera – not exactly standard viewing fare. The entire opera, which was produced for $1.2 million, was first released online in 12 episodes – prior to its broadcast debut on June 13 – for free on-demand streaming.
The story, "Vireo: The Spiritual Biography of a Witch's Accuser," revolves around a teenage girl who gets caught up in the historic obsession with female visionaries, as defined by witch hunters, early psychiatrists and modern artists.
"The viewing habits that people have nowadays are very different than what we were accustomed to 10, 20, 30 years ago," said Juan Devis, KCETLink's chief creative officer. "Following the model of the Netflix release, you have the entire season and it's up to you to decide when to watch and how. …And that's what we wanted to experiment with."
The art center's artist-in-residence program spawned this incarnation of "Vireo" when performance artist-composer-vocalist Lisa Bielawa came from New York for several visits, starting in 2012. She had first done research on the topic of hysteria while at Yale University.
She co-wrote the opera with Erik Ehn in 1994, but they couldn't get it produced because there were too many time period and costume changes, said John Spiak, the art center's director and chief curator.
It was shelved unitl Spiak contacted his friend Devis at KCETLink after Bielawa came up with the idea to do the opera as a TV series by watching "Arrested Development" on Netflix.
Devis said he saw a possible match with KCET's "Artbound" series, which explores innovation and creativity.
"We take deep dives into partnering with organizations or artists that are doing really daring and interesting work," he said.
KCETLink has already broadcast several opera-related ventures, including two documentaries from Yuval Sharon's downtown-based company, The Industry – "Invisible Cities" and "Hopscotch" – as well as a live telecast of Long Beach Opera's "Fallujah," written in collaboration with military veterans who served in that Iraqi city.
– Deirdre Newman