Snack Puffs Up
Friday, June 23, 2017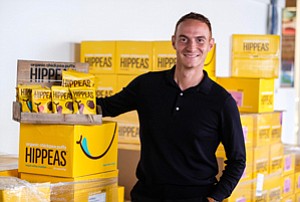 Branding
Bisterzo began working on Hippeas a few years ago while living in London, where he grew up. He wanted to create a branded food product that would appeal to the growing vegan market, so he settled on working with beans or legumes, which replenish depleted soil with nitrogen.
The company gives 2 cents for each bag sold to Farm Africa, a nonprofit that helps African farmers grow crops in a profitable and environmentally sustainable way. Bisterzo attributes the product's success to the message resonating with customers, in addition to hitting the right notes nutritionally.
"The consumer wants emotionality, beautiful stories that go way beyond food innovation," he said. "I see a lot of entrepreneurs with just a better-for-you product and I think, That won't cut it. Every category is very saturated."
He wanted to go after the puffed snacks category, which is dominated by Pepsico Inc.'s Cheetos and in which Pirate Brands, maker of Pirate's Booty, is also a major player. Pirate Brands was bought for $195 million in 2013 by B&G Foods Inc. of Parsippany-Troy Hills, N.J.
Branding is critical for salty snack makers trying to stand out from the pack, said Melissa Abbott, vice president of culinary insights at Bellevue, Wash., food and beverage consultancy Hartman Group Inc.
"There are only so many different formats consumers will accept," said Abbott. "Whether it's puffs, sprouted – you really do need to have a fun and playful message. Hippeas is going to appeal to the consumer who is on the fence when it comes to eating beans and legumes."
Younger consumers, whom Bisterzo said Hippeas is targeting, are more open to trying alternative ingredients and demand convenience, she said.
Early success
Bisterzo began experimenting with different ingredients and formats after moving to Los Angeles two years ago.
He began reaching out to retailers about selling the brand and had early success with Starbucks.
"Starbucks gave us a huge chunk of their distribution," he said. "Every other customer we went to went for it. We realized we had something pretty special on our hands."
The coffee chain said in an email that it sells Hippeas at 7,500 of its locations.
"Starbucks is dedicated to providing food items that meet a wide range of dietary needs, while also tasting great, and we believe Hippeas meet both of those requirements," a spokeswoman said in an email.
Cracked code
Friends and colleagues of Seth Rodsky, a managing partner for Strand in Los Angeles, suggested he check out Hippeas. Rodsky took a look at the company's impressive start on distribution and reached out about eight months ago, he said.
"For us, (Hippeas) checked all the boxes," said Rodsky. "It cracked the code of being good for you and tasting great. The branding instantly delivers a sort of attitude and purpose, which, when combined with the taste, the eye-catching design, has the potential to be fairly powerful."
Strand approached Bisterzo with DiCaprio, who invested in Brooklyn tea company Runa last year.
Bisterzo said the investors are a good fit for Hippeas.
DiCaprio couldn't be reached for comment last week.
Hippeas, which has a total of 24 employees at its West and East coast offices and 10 more in the United Kingdom, plans to use the money raised from Strand and DiCaprio primarily to build up its marketing and distribution, Bisterzo said.
Prev Next