May Cargo Volumes Surge at Ports
Tuesday, June 13, 2017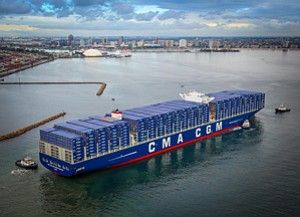 Both the ports of Los Angeles and Long Beach recorded their highest May cargo numbers in history.
The Port of Long Beach attributed the surge to new cost-saving shipping alliances, which see carriers share space on mega-vessels. The alliances went into effect on April 1.
"The new alliances are making more efficient use of our terminals with their deployments," said Lori Ann Guzmán, president of the Harbor Commission, in a statement. "Beyond that, the strong U.S. dollar is growing our imports, but not helping our exports. Still, we're in line with our projections for the year, and the Port is in a strong position as we head into the peak season."
A total of 648,287 TEUs (20-foot equivalent units) moved through the port in May, an increase of 1.2 percent compared to a year ago. Import containers increased by 1.8 percent to 336,594 TEUs, export containers were down 14.3 percent to 118,786 TEUs, while empties rose 12.6 percent to 192,908. It was the best month since September 2015, port officials said.
Cargo volume at the neighboring Port of Los Angeles rose 3.4 percent in May compared to the same period last year. It was the second straight year the port produced record May volumes.
A total of 796,216 TEUs moved through the port, with container growth hitting 8.5 percent for the first five months of 2017, port officials said. Imports increased 3.1 percent to 413,021 TEUs. Unlike the port of Long Beach, exports rose 4.4 percent to 169,639 TEUs.
"We continue to see balanced year-over-year growth both on the import and export side of our operations," said Gene Seroka, executive director of the Port of L.A., in a statement. "With nearly one million jobs … tied to San Pedro Bay port complex operations, we continue to focus on supply chain efficiency, optimization and sustainability."
Manufacturing and trade reporter Shwanika Narayan can be reached at snarayan@labusinessjournal.com. Follow her on Twitter @shwanika.
For reprint and licensing requests for this article, CLICK HERE.