PORTS: SHIPPING LINE MERGERS ARE CHANGING CARGO MOVEMENT LOCALLY, ABROAD.
Terminal Consolidation Could Bring Sea Change
Friday, July 21, 2017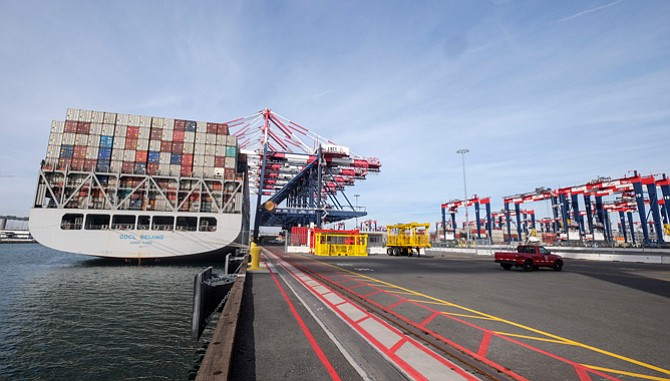 The merger of two major shipping lines along with terminals changing hands at L.A.'s ports could be a sign of consolidation that holds the potential to shake up the local supply chain.
Alliances and acquisitions of cargo carriers have already led to the consolidation of port terminals around the world, including at major West Coast ports such as Oakland; Seattle; and Tacoma, Wash. Terminals at the ports of Los Angeles and Long Beach might be next.
"Ocean carriers are all about reducing costs, as they have not been profitable because of an overcapacity problem," said Michele Grubbs, vice president for Southern California at the Pacific Merchant Shipping Association, which represents shipping lines and container terminal operators at West Coast ports. "Terminal consolidation is on the horizon for the San Pedro (Bay) ports."
That could mean some of the ports' 13 container terminals could see their use reduced, while others would take on more cargo, altering port operations but ultimately improving cargo flow and efficiency, some analysts said.
"I won't be surprised if terminal consolidations did happen at the port, but I'm not worried about loss of revenue with potentially less terminal operators because international trade will continue to grow," said Port of Long Beach Executive Director Mario Cordero.
He said cargo volume is expected to continue increasing at the twin ports, so the facilities likely wouldn't lose revenue from leases with terminal operators.
However, the neighboring ports could find themselves in greater competition with each other to attract a shrinking number of shipping companies, Grubbs and others said. Another possibility is a long-discussed merger of the two ports' operations, which together account for 40 percent of all containerized goods coming into the country, according to officials with other West Coast ports that have already gone through a similar shift.
Representatives at the Port of Los Angeles declined to comment.
Nick Vyas, executive director at the Center for Global Supply Chain Management at USC, said terminal consolidation is a natural step after years of shipping mergers and alliances that were seen as a postrecession remedy to declining revenues. He estimated that consolidations at Los Angeles and Long Beach might occur within the next six months to a year.
"With these deals and acquisitions we will see terminal operators forced to confront the issue of consolidation. This is the driving trend at the moment," Vyas said. "There are lots of terminals operating under redundant infrastructure and it causes inefficiencies that trickle down to the rest of the port supply chain."
Prev Next