TRANSPORTATION: BID FOR GAMES MAY SPEED PROJECTS.
Olympics-Sized Transit Effort
Friday, July 7, 2017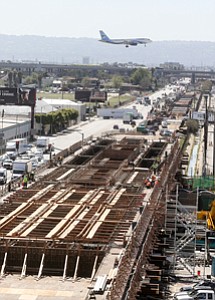 The company proposed fast-tracking five light-rail projects around the county, using the private sector to finance and manage the projects. It suggested having private-sector contractors work on the approval, design and construction phases concurrently, instead of sequentially as is now usually the case, which could shave years and hundreds of millions of dollars off projects.
The company has also submitted a formal proposal with joint-venture partner Kiewit Infrastructure for a public-private partnership on one of those projects, a 20-mile light-rail project from downtown's Union Station to Artesia. Metro has said it is examining the project.
Several proposals also addressed mass-transit options for the highly congested Sepulveda Pass connecting the Westside with the San Fernando Valley; Metro is giving serious consideration to at least two of those from Parsons Transportation Group and Cintra US Services.
Recent developments are pointing increasingly oward the International Olympic Committee awarding Paris the 2024 games and Los Angeles the 2028 games; the IOC will make its final decision in Lima, Peru, in September.
If that schedule proves to be the case, several projects are still expected to be accelerated, though with perhaps a bit more leeway for delays. With a full decade to work with, other projects might also come forward for fast-tracking.
One local transportation analyst, though, said he is dismayed that most of the projects that have been proposed for fast-tracking are rail projects.
"It makes me nervous to see all this acceleration of rail projects," said James Moore, professor and director of the transportation engineering program at USC's Viterbi School of Engineering. "If that happens without concurrent investment in the bus system, then overall transit ridership will continue to drop. With this influx of Measure M funds, we should not destroy opportunities to expand transit services for all classes. Just making sure that people can be moved to and from Olympic events seems pretty far down the list of priorities."
Subway to Westwood
Metro has already fast-tracked one high-profile project: the completion of the Purple Line subway through Westwood. This 2.6-mile extension from Century City to the Veterans Affairs Hospital property – estimated to cost $2.6 billion – was originally slated for completion in 2035, with construction not scheduled to begin until an extension to Century City now in preliminary construction phase was to have been mostly finished.
But Metro's Washington announced plans this year to build both extensions simultaneously with a completion date for both of 2024, just in time for the Summer Olympics.