CONSTRUCTION: SPIKE IN REVENUE, COMPLETED PROJECTS BOOSTS KB HOME EARNINGS.
Homebuilder Welcomes Street-Beating Quarter
Friday, July 7, 2017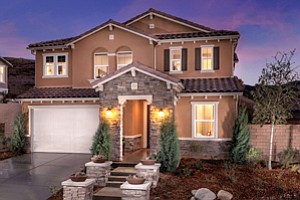 Westwood-based national homebuilder KB Home reported positive second-quarter earnings last week, spurred by an increase in revenue and completed projects, according to a June 27 filing with the Securities and Exchange Commission.
The company reported earnings of 33 cents a share, exceeding analysts' expectations of 26 cents. Total revenue grew 24 percent to $1 billion, exceeding Wall Street expectations of $927 million.
The residential builder said it had 1,468 homes in California under contract but yet to be delivered in the quarter – a 22 percent year-over-year increase. KB Home's net income for the quarter was $31.8 million, roughly 104 percent greater than its $15.6 million tally this time last year. The company's number of finished homes nationwide rose 11 percent year to year to 2,580.
"Not only did we do better in the second quarter than consensus, we raised our guidance in revenue and expect our momentum to carry on to the second half of the year," said Chief Executive Jeffrey Mezger.
The company's share price rose 5.4 percent to just above $24 after the report was released on June 28. The stock closed just below the $24 mark on July 5, for a market cap of $2.04 billion.
KB Home, which builds semicustom houses in communities across the country, is considered the nation's largest homebuilder in terms of volume, with nearly 600,000 homes built since the company's founding in 1957. It also offers mortgage banking, title and insurance services.
Analyst Robert Wetenhall of downtown-based RBC Capital Markets said KB Home posted a solid quarter in line with results of other homebuilders.
Mezger cited recent improvements in consumer sentiment and employment, combined with relatively low mortgage interest rates, as the main causes of increased demand.
Short Supply
The positive KB Home earnings report belies the fact that there are still not enough homes being built across the United States. That's according to UCLA's Anderson Forecast, released in June.
The report predicted housing starts this year would hit 1.27 million units, below the 1.4 million mark required to keep up with long-term demand.
Senior economist David Shulman, who authored the report, cited tighter credit standards, slow income growth and the shrinking middle class as key factors for the slow housing starts.
Housing prices have increased steadily as a result of the tight supply, a trend that's been pronounced locally.
The median home value in Los Angeles County sits at $556,400, an increase of roughly 7 percent from the previous year, according to data from online real estate marketplace Zillow. Prices have been on an upward trajectory since 2012.
Prev Next