COUNCIL PANEL WORKS TO CODIFY RULES ON DIGITAL SIGNS FOR L.A. BUSINESSES.
Guiding Lights
Friday, July 7, 2017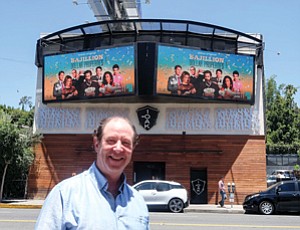 Local sign installers are breathing a sigh of relief after city of L.A. officials recently proposed regulating, but not banning, digital storefront signage.
The proposed rules would restrict the placement, size and brightness of digital on-site signs, such as those used by gas stations, theaters and auto dealers. But they stop well short of a ban sought by opponents and even city officials a few years ago.
"We were looking at an almost complete ban of on-premise digital signs, and that would have decimated my member sign installers and manufacturers," said Roy Flahive, executive director of the California Sign Association, a trade group in Poway. "These new regulations, although not what we would have wanted ideally, at least we can live with, so we're supporting them."
The regulations are still in an early phase.
The Los Angeles City Council's planning and land-use management committee released them on May 31 and then promptly sent them to staff for review with the aim of developing more detailed regulations. The rules next have to come back to the council for hearings and a vote; no time line has been specified, but the council probably won't see a finished package until sometime next year.
The city currently considers the signs on a case-by-case basis, often deciding because of their proximity to homes or other sensitive areas not to allow them.
One local digital sign installer is eager for regulations to be put in place so that there can be clear guidelines for him to present to potential customers.
"Right now, even though digital signs are supposedly allowed, in many cases when (business) customers in Los Angeles have approached us about putting up signs, the city has not allowed them," said Ruben Cielak, president of Tako Tyko, a sign company based in Mid-City. "If we can get these regulations approved, then we'll know exactly what the rules are and that should allow us to sign up more customers."
The cost of digital signs also has limited their use.
A 60-square-foot digital sign could cost in the low six figures to install until about three or four years ago, way beyond the means of most businesses in the city. Digital signs have largely been limited to movie theater chains, gas stations and other businesses where listings or prices change constantly.
One of the few other businesses using digital signs is Walgreens Boots Alliance Inc. of Deerfield, Ill., which has a national policy of using small digital signs at most of its drugstores to advertise specials on products.
Prev Next