Pot Consultant Builds on Buzz
Friday, January 6, 2017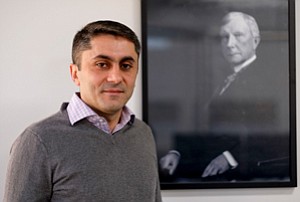 Californians hit the polls to legalize recreational marijuana in November, and one of the first places to feel the buzz was Glendale cannabis consulting and management firm Siva Enterprises Inc.
"After the elections, the phone has not stopped ringing," said Avis Bulbulyan, Siva's chief executive. "We were getting emails and inquiries for licensing at midnight the night of the elections."
The boost in business has Bulbulyan looking to grow aggressively. He moved the company into a new headquarters last month and has plans to hire up to 24 additional employees. The firm has also launched an incubator for cannabis startups.
The company has made a name for itself helping businesses around the country successfully receive state and local licenses. It has also worked with government officials to help draft state and local marijuana regulations.
But as more cities in California begin to pass ordinances allowing for marijuana cultivation and dispensary operations, competition for new business will increase for consulting outfits such as Siva, which are vying to attract clients willing to pay as much as $1 million for help in gaining a coveted license.
Jeffrey Welsh, a partner at Frontera Law Group in Sherman Oaks, said he expects traditional consulting companies to eventually launch cannabis practices, but his prediction is that "first movers" such as Siva will have an advantage in an industry that's still anti-establishment.
"Once it does become completely legal, we're going to see a flood of traditional service providers, law firms, and consulting firms," he said. "But again, it's hard to train up and get that cannabis expertise unless they acquire an existing cannabis firm or take talented people from these groups."
Nevertheless, demand should be high, he added, as firms will need help wading through dense and often contradictory regulations imposed by each municipality.
"Everything is in flux," Welsh said. "To have a legal understanding of what's going on is really important, because these clients are sinking five or six figures into these projects."
Learning curve
Bulbulyan founded Siva, formerly known as Bulbulyan Consulting Group, in 2007 after working as an auto theft investigator and compliance expert for insurance agencies.
Prior to launching Siva, a friend approached Bulbulyan for help with his pot dispensary figuring his legal and insurance background would come in handy in making sure the store was compliant. At about the same time, Bulbulyan said, his doctor had prescribed him a synthetic version of tetrahydrocannabinol, the main mind-altering chemical in cannabis, but he was experiencing adverse side effects.
Prev Next