PAGE 3: Choi Left With Bad Taste
Friday, January 6, 2017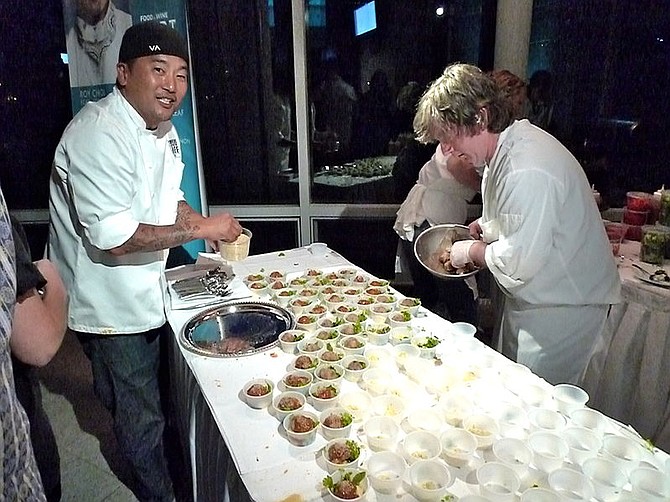 There are many ways restaurateurs respond to bad reviews. Some ignore, some strike back against the reviewer. And some, such as Roy Choi, view them as a challenge.
New York Times reviewer Pete Wells checked out the Oakland version of Choi's Locol, which first launched in Watts as a healthier, more artful version of fast food designed for communities where good dining options are often lacking.
Wells' review lead with this zinger:
"The chefs Daniel Patterson and Roy Choi are trying to do so many things with their insurgent fast-food chain, Locol, that it almost has to fall short somewhere. What I didn't expect before I ate at the branch here was that the big problem would turn out to be the food."
Wells' critique was, as might be expected from a veteran food critic, nuanced and substantive, and Choi's response, posted on Instagram, came in kind.
"I know many of you want me to respond or snap back at him but the situation to me is much more than that. I welcome Pete's review," he wrote. "It tells me a lot more about the path. I don't know Pete but he is now inextricably linked to Locol forever."
It's not that Choi wasn't stung.
"He didn't need to go there but he did. That's why he's a part of Locol," Choi wrote. "The power of this change and this nerve that it hits. It compelled him to write something he knows would hurt a community that is already born from a lot of pain and struggle. Crazy, right? But I see it as a piece to this whole puzzle."
Ferro, Beutner Weigh in on Journalism
The Poynter Institute recently rounded up a number of leading journalism figures and asked them what they thought the biggest unknowns were for the media in the coming year. Among the luminaries they asked were Michael Ferro, chairman of Los Angeles Times owner tronc Inc., and the publisher he booted, Austin Beutner.
The two, as might have been expected, took very different approaches.
Ferro asked when social media companies would "drop the word social and acknowledge officially they are media companies with the same editorial and ethical responsibility to provide real journalistic content to the communities they serve."
Which can prompt the question: Is it a two-way street? In his world, are the lines between the old idea of a "media company" and the new one completely blurred? If so, what does that bode for venerable institutions like the Times?
Prev Next