SpaceX Plans to Send Tourists Around the Moon
Monday, February 27, 2017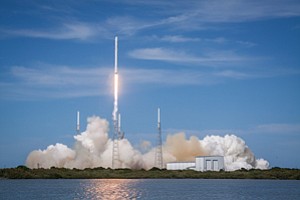 Space Exploration Technologies Corp. announced plans this afternoon to send two tourists around the Moon by the end of 2018.
The Hawthorne company said in a blog post that the aspiring space voyagers have already paid a significant deposit for the flight and more space tourist flights are expected, pending a successful first mission. The cost of a trip over the Moon was not disclosed.
The proposed Moon flight would be the first such manned mission attempted since the Apollo program ended 45 years ago. SpaceX's customers would not land on the Moon; rather they would circle it in a spacecraft via a path that would place them deeper into the Solar System than any human has ventured before.
"Like the Apollo astronauts before them, these individuals will travel into space carrying the hopes and dreams of all humankind, driven by the universal human spirit of exploration," the company wrote in its blog post. "We expect to conduct health and fitness tests, as well as begin initial training later this year."
Before sending tourists into space, the rocket company must complete crewed Dragon missions to the International Space Station for NASA. It also needs to test launch its heavy-lift rocket the Falcon Heavy this summer, whose extra thrust is needed to complete the long journey.