REGULATION: BUSINESSES COULD FACE LAWSUITS OVER LACK OF GENDER-NEUTRAL FACILITIES
Deadline Looms for Signage on Public Restrooms
Friday, February 3, 2017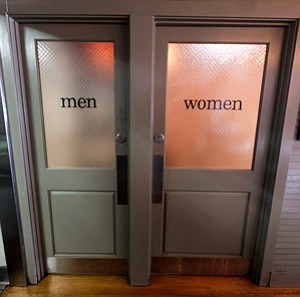 Business owners have until March 1 to make sure their signs for single-occupant restrooms are gender neutral under a new state law aimed at making public facilities more inclusive.
The law is fairly straightforward, simply requiring a new sign, and it doesn't prescribe a penalty for those who don't do so, leaving enforcement up to local jurisdictions.
But businesses that don't comply could face a potential legal pitfall, said Karl Lindegren, a partner at Fisher Phillips, which specializes in employment law.
"I could see some enterprising plaintiffs' lawyers using it as evidence of gender discrimination," said Lindegren.
For example, if a business fired a transgender employee and didn't have the appropriate signage, the employee could claim that the business had a bias. A customer who was refused service at a business could make a similar claim.
"I would be surprised if somebody didn't at least try to raise it," said Lindegren.
Bay Area Democratic Assemblyman Phil Ting introduced the law, signed by Gov. Jerry Brown in September, in the wake of initiatives across the country to require transgender people to use bathrooms based on their birth gender.
The new law applies to all California businesses, government agencies, and other public places that have single-occupancy restrooms. The law doesn't apply to restrooms with more than one stall.
Without a penalty built into the law, enforcement has been left to local agencies such as code enforcement departments.
The law doesn't require a specific symbol or sign, leaving that decision up to the business owner, so long as the restroom is "identified as all-gender toilet facilities."
Unlike the Americans With Disabilities Act, which specifically provides a way for the public to seek enforcement of the law through the civil courts, known as a private attorney general action, the gender-neutral law doesn't have such a provision.
Mark Verge, who owns several Santa Monica restaurants, said he isn't worried about the bathroom sign law. "For me, it's such a simple change," Verge said. "It's good that California is doing it."