Sports Titans: Stan Kroenke
2018 Book of Lists
Thursday, December 21, 2017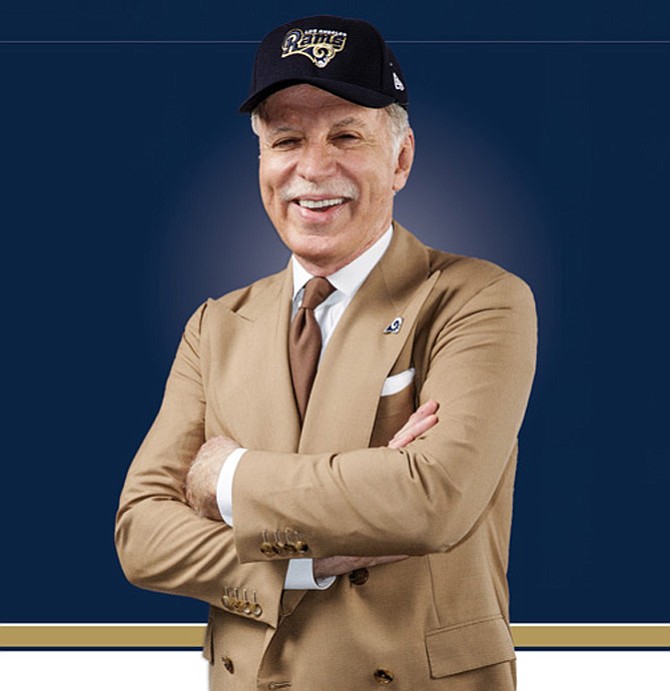 The L.A. sports scene seems to have turned a corner. To what do you attribute that?
I think the vibrancy of the city – it's an amazing place. I've had a house here for 20 years. I just think L.A. continues to evolve. It's an amazing place culturally, and I think that sports is an important part of any cultural scene. I just think L.A. is a world-class city and you have that sort of drive behind it. It used to be, I thought, more of a company town [for the entertainment industry] but now there's all the tech and other industries that are making an impact on the city.
How will Inglewood fit into the scene once the L.A. Stadium & Entertainment District at Hollywood Park opens?
I was in Minnesota recently, and Mark and Zygi Wilf just built that beautiful new stadium up there, and they're using the same architect we're using at Hollywood Park, and they're real estate developers. They know the business, and they say "what a location" [about the Inglewood site]. It's an amazing fact that there would be 300-plus acres sitting in the middle of L.A. We have the Olympics, Super Bowl and now the College Football Championship all announced for our building – that's extremely exciting. And we couldn't do it without the NFL or without the [city of Inglewood and Mayor James T. Butts, Jr. ] or the city of Los Angeles and all the efforts by [Mayor Eric Garcetti] and the [Olympic bid] committee.
Does that lineup of mega-events – and the fact you have two NFL teams as tenants – sum up why the Rams made the move back to the Los Angeles market?
I think the fact that there are so many Los Angeles Rams fans [was a key reason]. First and foremost that's us—we're the Los Angeles Rams. I think it's a wonderful opportunity to build one of these stadiums. You see what they cost, and it's a big undertaking, and the fact that you have an L.A. sports scene that's so vibrant and very attractive with the entertainment [aspect] – the entire development is an Entertainment District at Hollywood Park. And [NFL Commissioner Roger Goodell], that's what he wanted. In 2012 … he had his wish list … and there were two main things: An iconic stadium within a larger entertainment district.
Were there any other sites on par with the opportunity in Inglewood in terms of land acquisition, draw area, media market?
For reprint and licensing requests for this article, CLICK HERE.
Prev Next