Sports Titans: Magic Johnson
2018 Book of Lists
Thursday, December 21, 2017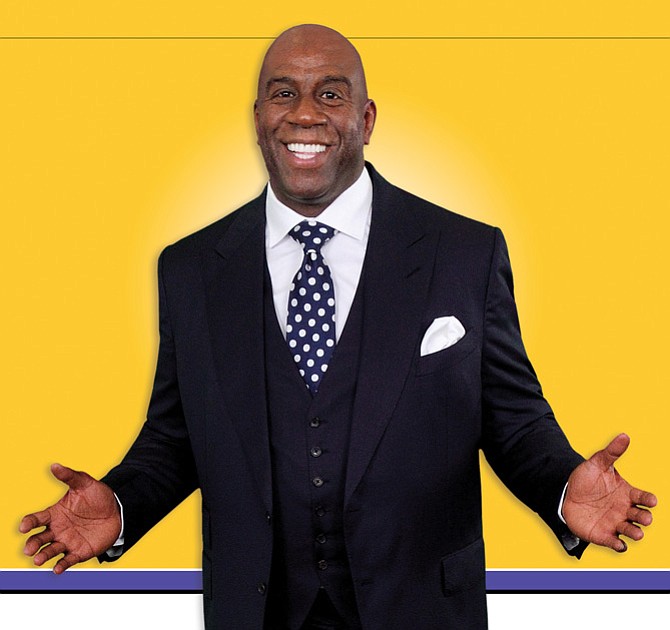 How has Los Angeles changed as a sports town since you arrived here in 1979?
We as fans are really blessed and should be happy. It was really a Dodger town and a USC football town and a UCLA basketball town. One, two, three. And then what happened, my first year we won, and then it started to become a Dodger-Laker town, along with USC football and UCLA basketball. But now, if you're a sports fan, you love it. We go from no football teams to now having two. We go from no soccer teams [back in 1979] to two – the Galaxy is the most successful team in terms of championships, more than any other [men's professional U.S. soccer] team. So not only do we have soccer teams, but we have a championship soccer team. We'll have two brand new stadiums as well, and things are really moving and looking up for Los Angeles as a sports town because [of] the stadiums.
How do the new stadiums benefit residents of Los Angeles?
As a businessman you look at it from all angles. You look at it from how you benefit as owners, and then you look at it from how the city will benefit as well, because a lot of the time they will become your partner. Creating and building a new stadium provides so many job opportunities, contract opportunities for different suppliers and companies in the city – and then you think about tax revenue for the city itself. So all those things – there's a lot of money – that's why cities recruit teams to come, because they know what it means for the economy.
How did you transition from athlete to businessman?
I always wanted to be a businessman, and my mentor became Dr. Jerry Buss. Without him I wouldn't be where I am today. He took me up under his wing and [treated] me like I was his own son and [made] sure that I shared my dreams of being a businessman. He made sure to help me and mentor me along the way so that I could reach my goals and dreams. Right now, Peter Guber and I, we've owned over five companies together. Starting off with Magic Johnson Theatres – he was running Sony at the time – and now we own five different businesses together. Michael Ovitz, who I have to give a lot of credit to … really changed my mindset and got me really focused on business. He took me through his network and people in his rolodex and said, 'Okay, come on and meet so and so.' He used to take me all around to the power lunches and breakfasts of Los Angeles.
For reprint and licensing requests for this article, CLICK HERE.
Prev Next