Corporate Citizenship & Giving Guide: Providence Foundations, Los Angeles Region
Custom Content by the Los Angeles Business Journal
Monday, December 4, 2017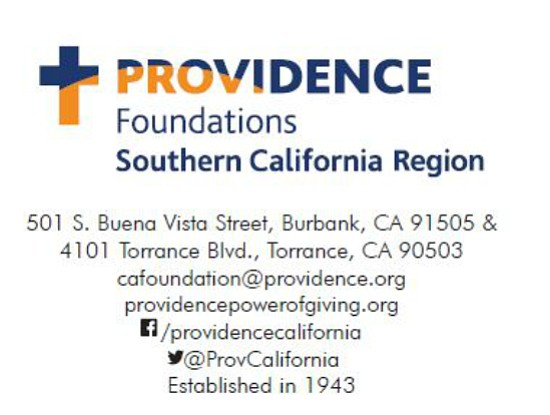 SERVICE AREA
Providence Foundations, Los Angeles Region supports five medical centers and a regional hospice service caring for residents throughout the greater Los Angeles metropolitan area, and in Orange County for hospice services.
MISSION STATEMENT
As People of Providence, we reveal God's love for all, especially the poor and the vulnerable, through our compassionate service.
COMMUNITY IMPACT IN 2017
Providence provided $251.6 million in free health services, community health programs and other supportive services at little or no cost in support of our mission.
LEADERSHIP
EXECUTIVE LEADERSHIP
Susan C. Dolbert, PhD
President & Chief Development Officer
BOARD OF DIRECTORS
Providence Health & Services Foundation/ Valley Service Area Board of Directors
Chair – Peter J. Lynch, A & G Realty
Vice Chair – Thomas L. Bruehl
Treasurer – Edward A. Romano, Warner Bros. Entertainment, Inc.
Secretary – Maria O. Uribe, San Sebastian Properties, Inc.
MEMBERS
Pouria Abbassi, P.E. Golbanoo Investment Group
Sister Sheila Browne, RSM, Providence Saint Joseph Medical Center
Norman M. Coulson
Glendale Federal Bank, Ret.
James A. Dal Pozzo
JACMAR Companies
Susan C. Dolbert
Providence Foundations, Los Angeles Region
Stephen J. Dutka
Fiduciary Trust Co.
Jerald Einziger, M.D. Encino Breast Care Center
Hon. Mitch Englander
City of Los Angeles
Albert J. Ghirardelli, Esq., Attorney at Law
Marcia Haynes
Bradley D. Howard
Jackbilt, Inc.
Bernard J. Klein, MD, MBA, Providence Holy Cross Medical Center
Kelly M. Linden
Providence Saint Joseph Medical Center
Michael J. Madden
Providence Health & Services, Ret.
Michael S. Overing, Esq., Law Offices of Michael S. Overing
Gerald S. Puchlik
Puchlik Design Associates, Inc.
David A Sato, M.D. Foothill Cardiology
Dale A. Surowitz
Providence Tarzana Medical Center
Providence Little Company of Mary Foundation Board of Trustees
Chair – Sean Armstrong, Westport Capital Partners, LLC
Vice Chair – Mark Paullin, Capstan Manufacturing
Treasurer – Tom Connaghan
Secretary – Betsy Miller
MEMBERS
Richard Brombach
Retired President, Clark Drugs
Caroline Burke, Caroline Burke Designs and Associates
Chris W. Caras, Jr., CBRE
John M. Colich, Engineering Contractor, Colich and Sons
Paula Del Vicario
Music Educator
Susan Dolbert
Providence Foundations, Los Angeles Region
Kathleen Eckert
Edward Fountain, Jr.
Jim Hunter
Baron Real Estate
Alanna Kennedy
Community Leader
Sr. Terrence Landini, L.C.M. Little Company of Mary Sisters
Sandra A. Lash, CPA Green Hason & Janks LLP, Ret.
Yvonne Liu
James Mollenkamp, MD Urology Institute of the South Bay
Steve Morikawa
American Honda Motor Co., Inc.
William Murin
Tracy Nickl
BNY Mellon Wealth Management
For reprint and licensing requests for this article, CLICK HERE.
Prev Next