Leaving Old World Behind
Alex Kazerani, who coped with the Iran-Iraq War as a boy in the 1980s, would later find success in L.A.'s tech scene, launching and selling three companies
Tuesday, August 29, 2017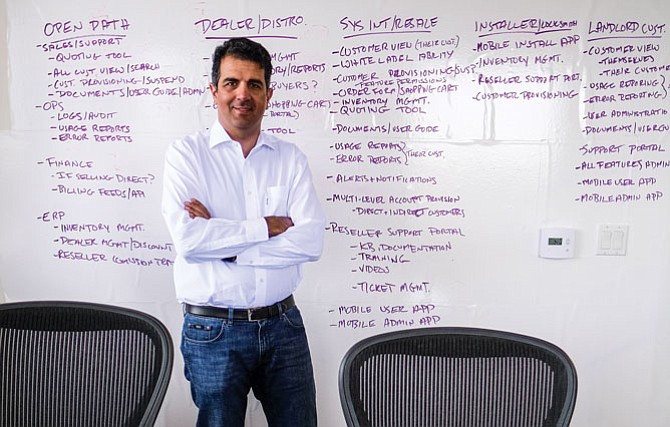 The first time he heard a bomb drop, Alex Kazerani was 10 years old. The second one he heard shook the windows of his house.
Terrified, he hugged his mother's leg tightly and waited to hear if there'd be more, Kazerani recalled. It was the early years of the 1980-88 Iran-Iraq War, and living with his family in the Iranian capital of Tehran involved daily dashes to the basement for safety followed by agonizing minutes of not knowing if his family would survive the night.
"While those days are somewhat of a blur, the horror I felt then remains one of my most vivid memories of childhood," he said.
At the time, he couldn't have imagined his life more than three decades later as a successful tech entrepreneur in Los Angeles.
Kazerani, 44, would go on to co-found and sell three L.A. technology companies, most recently selling his EdgeCast Networks to Verizon Communications Inc. in 2013 for $400 million. At the time of its acquisition, the content delivery platform had 300 employees and $90 million in annual revenue.
"This could not have been possible if I was in Iran or elsewhere, really," said Kazerani, who lives in Santa Monica with his wife and two children.
"I always thought of L.A. as a city that has been built on the history of arts and creativity," he said. "As such, it is a progressive city, where individual creativity is not just tolerated but welcomed and appreciated. Given its demographic of the second-largest city and huge melting pot of immigrants, entrepreneurs can do very well in Los Angeles."
Kazerani left Iran at 13 for boarding school in France, a country he had spent time in before, and eventually made his way to the United States where he had family. He attended Tufts University, where he majored in international relations and economics, graduating in 1995.
He moved to Los Angeles the next year to take a job at an internet service company. He ended up detesting his boss, who he said was a terrible manager and from whom he learned how not to run a business.
Though he quit after just three months, he had developed an affinity for tech and "believed in the promise of this new thing called the internet," partnering with two college friends to form HostPro, a web hosting service.
"We had no interest from venture capitalists and banks early on," Kazerani said. "We were young, only 22 at the time, and inexperienced."
Prev Next