MYSTIC JOURNEY GALLERY AMONG BUSINESSES BOOSTED BY 'HEALY-FEELY' INDUSTRY.
Crystal Clearance
Friday, August 25, 2017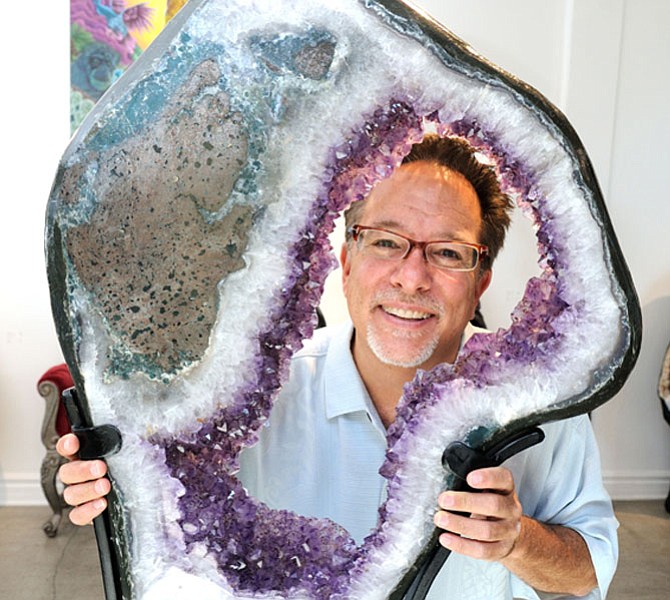 A multipointed white quartz cluster the size of a minifridge greets clients entering Mystic Journey crystal gallery on Lincoln Boulevard in Venice.
The 1,841-pound stone is the largest – and arguably most dramatic – piece at the center of owner Jeff Segal's high-end crystal venture, which opened late last month. It is also the most expensive stone among the three dozen or so pieces on display, with an asking price of $74,000.
Segal said the market for crystals like this is growing in Los Angeles, with wealthy clients viewing such stones as unique art pieces for display in homes or offices.
"I'm sure there are other places in the country that have as much interest in and knowledge about (crystals), but there can't be many," he said. "Whether it's for the metaphysical aspects or just for the beauty of the stones, more people want them."
It isn't clear how large the crystal market is, and some mineral trade insiders doubt its long-term viability. But the U.S. psychic services industry – which includes businesses that offer expertise in astrology, palmistry, aura readings and other metaphysical offerings often connected to crystals – had 2016 revenues of $2.1 billion with 2.4 percent annualized growth over the previous five years, according to a December report from IBISWorld Inc.
Mystic Journey is Segal's second retail location. He also owns a shop with the same name on Abbott Kinney Boulevard, a self-funded venture he started in 2008 after a 27-year career as an attorney. The two shops in total have four full-time workers, about 13 part-time employees and more than 20 independent contractors who teach classes or give psychic readings at the stores.
Segal declined to give exact revenue numbers for his business, but said crystals have been integral to its success despite an initial focus on New Age healing books and other metaphysical accoutrements.
In 2016, he saw a 40 percent surge in crystal sales, which followed a 50 percent jump in 2015 and 30 percent spike in 2014, Segal said. These steady revenue increases helped convince him there was long-term market demand, which led this year to the new gallery space dedicated to large-scale pieces.
"I think (the popularity of crystals) is going to continue to grow," he said. "You can't put that genie back in the bottle."
Mystic Journey isn't the only company tapping into the growing crystal demand. Shops dedicated to these stones proliferate in Los Angeles County, with most offering an assortment of metaphysical wares including smaller, less expensive crystals. There are, however, several high-end gallery-style retailers similar to Mystic Journey's new location that offer five- and even six-figure specimens, including Crystalarium in West Hollywood and Sorenity Rocks Malibu.
Prev Next