Grounds for Growth
New Fairplex CEO Miguel Santana sees room for more business at 487-acre site
Friday, August 18, 2017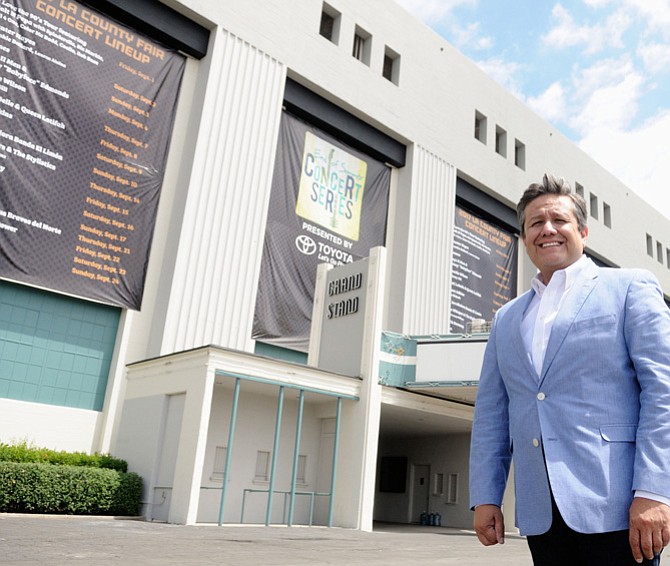 More than a million visitors go to Fairplex in Pomona every September to be entertained at the L.A. County Fair.
But the 487-acre property on the eastern edge of county has done much more than play host to Ferris wheels and fried ice cream.
It also has served as a year-round showcase for Southern California industries, culture and art for nearly a century – not to mention the hotel, conference center, and bar and grill owned by the Los Angeles County Fair Association, a nonprofit agency that runs Fairplex.
Its leaders are now in the process of developing a strategic plan to guide the property into the future.
"The question is what does the next 100 years look like," said Miguel Santana, the new chief executive of the association. "Our mission will always stay the same. Our mission is going to remain about celebrating the things people are passionate about, strengthening the economy, developing entrepreneurship and commerce."
Devising a strategy to accomplish that mission in a changing world is the task at hand for the association. Santana said it will include plans to develop the site's land amid projections that more acreage will become available for new uses over the next decade. That's largely based on expectations of reduced demand for parking spaces with the advent of driverless cars and a Gold Line light-rail extension that's slated to reach the property over the next decade.
Fairplex officials have held a series of meetings with the community, business and elected leaders since March in order to come up with a strategic plan. They plan to release a first draft of the vision next month and to finalize the document by the end of the year.
Equestrian activities or even horse-racing activities also have the potential to make a major return, Santana said.
Another key idea, he said, includes a potential entrepreneur incubator site on the grounds, where would-be business owners such as chefs or engineers could come, pay rent and connect to like-minded people with their inventions, products or culinary ideas.
"It's an emerging part of our economy because a lot of folks are developing their own businesses but don't want the overhead costs associated with that," Santana said. "You have a space, and all the equipment you need to create something is there. You basically rent the space and you don't have to bring the equipment."
Long-range goals for the organization, he said, include annual revenue growth for year-round events, increased visitor counts and the improvement of the Fairplex's benefit to the local community and throughout the county.
For reprint and licensing requests for this article, CLICK HERE.
Prev Next