FOOD: CATALINA SEA RANCH TAKES CRACK AT SHELLFISH SALES.
Aquatic Farm Flexes Mussels Offshore
Friday, August 11, 2017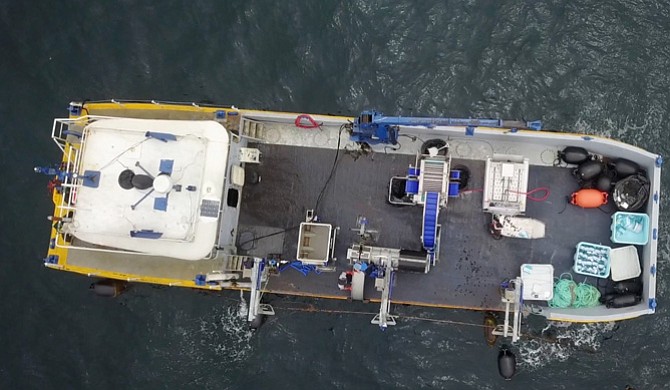 Catalina Sea Ranch has finally grown some mussels.
The company's aquaculture farm a few miles off Los Angeles County's southern coast harvested its first batch in mid-July. The initial crop was three years in the making and represents new territory in the seafood business: The aquaculture facility is the first in the nation to be permitted for commercial use in federal waters, the company and federal officials said.
Phil Cruver, founder and chief executive, said the United States is too reliant on imported shellfish, and he aims to change that with his Catalina Sea Ranch.
"I saw a need for fresh, sustainably grown mussels in the L.A. region," Cruver, 72, said. "The company is now positioned to be one of the very few domestic suppliers of shellfish in the country."
The United States imports 80 percent to 90 percent of its seafood, with over half of that derived from global aquaculture, according to the National Oceanic and Atmospheric Administration's fisheries division, a federal agency within the U.S. Department of Commerce.
"Despite having the second-largest sea region in the world, the U.S. trade deficit in seafood grew to about $13 billion last year," said David O'Brien, deputy director of NOAA's Office of Aquaculture.
The estimated freshwater and ocean U.S. aquaculture production in 2014 was 608 million pounds with a value of $1.33 billion, according to the latest data from Fisheries of the United States, an arm of NOAA.
Catalina Sea Ranch will barely dent the deficit, at least for now.
The privately held company operates a 100-acre underwater shellfish farm and has an office and research facility located at Berth 58 at the Port of Los Angeles, employing nine workers.
Catalina Sea Ranch has partnered with Holtsville, N.Y., seafood distributor DiCarlo Distributors Inc. to supply its mussels regionally, setting a price point of $2.25 a pound at wholesale.
Cruver said that is slightly higher than market rate but that DiCarlo is willing to pay a bit more for fresh, locally grown shellfish.
Catalina Sea Ranch has had two test harvest rounds so far, together yielding about 500 pounds of mussels, Cruver said, and he expects the entire pilot run to produce close to 30,000 pounds.
He hopes to expand the sea farm to 1,000 acres over the next few years for mussel production as well as other types of shellfish farming including abalone, oysters and scallops. He estimated the growth would scale up the mussel harvest, which takes eight months to a year, to 2.5 million pounds.
Prev Next