NONPROFIT: CENTER HOPES NEW 'BODY WORLDS' EXHIBIT CAN LIVE UP TO RUN IN 2004.
Museum Aims to Come Alive With Cadaver Show
Friday, April 28, 2017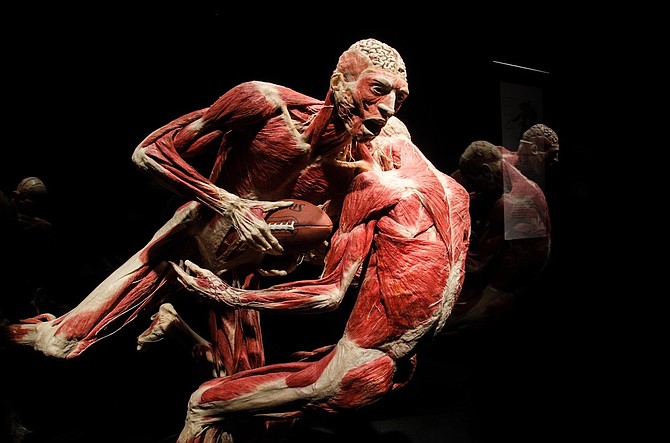 Los Angeles has long held a reputation for being body conscious.
Leadership at the California Science Center is betting – again – that proves true. The institution is bringing in the follow-up to the eerie anatomical spectacle "Body Worlds," seeking to match or beat the record-breaking attendance that exhibit generated more than a decade ago.
The newest incarnation of the exhibit, "Body Worlds: Pulse," will open May 20.
More than 1 million people visited the Exposition Park museum in 2004 for the U.S. premiere of "Body Worlds," making it the best-attended special exhibition in the center's history. It featured a 20,000-square-foot display of more than 200 human cadaver specimens treated for exhibition by German scientist Gunther von Hagens through his controversial process of "plastination," which involves replacing body fluid with plastics.
Center President Jeffrey N. Rudolph said "Body Worlds" drew twice as many visitors a day than the center's other top touring exhibitions, including 2015's Dead Sea Scrolls exhibition and a Pompeii exhibition in 2014. Attendance came close to rivaling the most popular cultural exhibition in Los Angeles to date, 1978's "Treasures of Tutankhamun" at the Los Angeles County Museum of Art, the local stop on a global touring phenomenon that logged 1.2 million visitors to LACMA over four months.
The first "Body Worlds" show, "The Anatomical Exhibition of Real Human Bodies," which ran from July 2004 to January 2005, proved so popular that the center remained open until midnight for the last two weeks of the engagement. The run could not be extended because "Body Worlds" was headed to the Chicago Museum of Science and Industry. In order to meet demand, the Exposition Park museum quickly booked von Hagens' "Body Worlds 2," an equally large show with different specimens, which made its U.S. debut one week after the first exhibit closed. "Body Worlds 2" ran at the center from January to March 2005.
Ticket prices for both exhibitions ranged from and $5.75 to $12, which, if averaged out, means the center took in about $9 million in revenue.
The film "The Human Body" was also shown at the center's theater during both exhibitions, with ticket prices ranging from $8.25 to $17.50. Tickets for "Body Worlds: Pulse" range from $13 to $20, with museum members receiving a slight discount.
Von Hagens' show made a return five-month visit to the Science Center in 2008 with "Body Worlds 3 & The Story of the Heart." Rudolph said that presentation drew just under 500,000 visitors, making it the second-most-successful special exhibition for the center.
Prev Next