Whole New Strategy for Randy's Donuts
Friday, April 21, 2017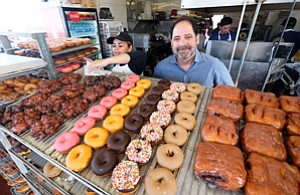 The owner of Randy's Donuts in Inglewood is cooking up something bigger than the iconic doughnut that sits atop the shop's roof.
Mark Kelegian, who bought the 64-year-old, 24-hour bakery for $2 million two years ago, plans to expand the concept to more than a half-dozen locations annually in Southern California, and may even franchise it nationally.
The first new location will be a 300-square-foot shop, scheduled to open in June at the renovated Westfield Century City mall.
"One of the many reasons I wanted to purchase Randy's Donuts was because the brand has never been used," Kelegian said.
The expansion comes at a particularly competitive time in the L.A. doughnut market, as heavy hitters including Dunkin' Donuts have made aggressive moves into the area. And Kelegian said he doesn't expect to be able to use Randy's Donuts' most recognizable symbol, the large rooftop doughnut, at his new locations, though its products will use the same recipes and ingredients.
"I wish I could," said Kelegian, 56, a former lawyer with stakes in several casinos, including the Bicycle Hotel & Casino in Bell Gardens. "Because of city permitting, it's unlikely. Every city employee will tell you today that you'd never get that built now."
Janet Lowder, president of Restaurant Management Services in Rancho Palos Verdes, agreed that it would never happen unless Kelegian found a building with a preexisting doughnut. Nevertheless, she thought Randy's could succeed.
"They have such a large following and are known for their good ingredients and top-quality doughnuts," Lowder said. "As long as they keep the quality up, the service is good, and they have a good layout, they should be fine."
Salar Sheik, founder of L.A. restaurant consultancy Savory Hospitality Group, said it would be crucial for Randy's to develop a product to stand out from the crowd of doughnut shops.
"How are they going to spread one identity to multiple locations?" asked Sheik. "It will be a challenge."
Kelegian said he recognizes that.

"You can have all the cool attractions you want but the product has to be what brings people back," he said. "Otherwise, you're just a large doughnut."
Something cooking
Kelegian's purchase of Randy's Donuts came by chance two years ago when he was browsing a website with businesses listed for sale. He recognized the restaurant immediately.
"Honestly, I was just on there goofing around," said Kelegian. "The ad said, 'Iconic, 64-year-old restaurant for sale.' I bought it as quickly as I could."
Prev Next