CHAIN REACTION
Hollywood Bed Building Bigger Facility to Handle Major Retail Orders
Friday, April 21, 2017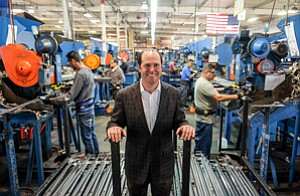 Hollywood Bed & Spring Manufacturing Co. is expanding its Commerce facility to accommodate growth fueled by partnerships inked in recent years with national retailers including Wal-Mart Stores Inc.
The bed-frame maker plans to build a new 20,000-square-foot facility west of its existing Corvette Street location, giving it more than 100,000 square feet. The company said the expansion would accommodate adding 30 more workers to its 170-person payroll by the end of next year.
Founded in 1945, the privately held, third-generation family business manufactures and sources every part for its products from within the United States.
The company has been a supplier to Wal-Mart for the past three years, a beneficiary of the retail giant's 2013 launch of its Made in USA initiative. The Bentonville, Ark., company pledged to purchase $250 billion worth of American-made goods over 10 years – on top of the U.S. products it already was buying, though the retail giant wouldn't disclose what it was spending in that realm.
"We've seen a 10 percent growth in our business due to the deal with Wal-Mart," said Jason Harrow, 42, president of the company that was founded by his grandfather.
Harrow put Hollywood Bed's revenue at between $25 million and $50 million.
At an event this month where the company unveiled its plans for the new facility, Harrow emphasized the importance of having retail chains such as Wal-Mart as a customer.
"There's an important ripple effect when a company like Wal-Mart makes the decision to buy a made-in-the-USA product," Harrow said. "Not only does it help our company and all of our employees, but it helps our cardboard supplier, our steel supplier, our rivet supplier, and their employees and families."
Local to national
Hollywood Bed had a much different clientele for much of its history.
Its founder, Irving Harrow, an immigrant from Poland who moved to the United States in the late 1930s, settled in Cleveland and found work crafting metal bed frames and support products by punching holes in steel with a hand tool, according to his son Larry Harrow, 70, who is chief executive, chairman, and majority shareholder of the company.
The elder Harrow said his father moved to Los Angeles in the early 1940s after marrying an Angeleno and started making bed frames because it was the only thing he knew how to do well.
Hollywood Bed dabbled in diversifying its products by manufacturing mattresses in 1974.
Prev Next