Rodney King Riots Still Cast Shadows
Friday, April 7, 2017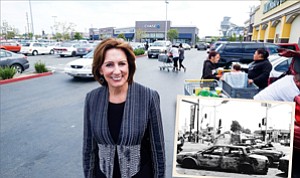 Twenty-five years after South Los Angeles erupted in flames through four days and nights of rioting after the April 29, 1992, verdicts acquitting four police officers in the Rodney King beating case, some of the hardest-hit neighborhoods are well on the path to recovery.
But more than a generation later others struggle and stagnate.
Around the periphery of the rioting, neighborhoods from Koreatown to USC to the Crenshaw Boulevard corridor are experiencing unprecedented levels of development, with new mixed-use centers and housing developments almost completely wiping away vacant lots and any other traces of the rioting.
"Koreatown is completely rebuilt, Pico-Union is completely rebuilt, and so are some other neighborhoods," said Linda Griego, former head of Rebuild L.A., a nonprofit set up to guide redevelopment after the riots, and chairwoman of MLK Health and Wellness Community Development Corp. "For the most part, they've all rebuilt better."
But the closer one moves to the flashpoint of the riots at Florence and Normandie avenues, the more spotty the recovery has been. Scores of lots remain vacant, some buildings are still boarded up, and many stores retain a rundown feel. While some new projects and shopping centers have finally opened after decades of delays and failed plans, overall economic investment in this central core continues to fall far short of the promises and commitments made in the weeks and months following the riots.
"The closer you are to the epicenter, the less change there has been in economic opportunity and economic development," said Fernando Guerra, director of the Center for the Study of Los Angeles at Loyola Marymount University in Westchester.
Economic toll
The rioting, which ran from April 29 to May 2, damaged or destroyed 1,100 buildings in the city of Los Angeles at a cost of nearly $1 billion, according to RLA's final report from January 1997. Among the affected buildings were 700 retail shops, including 225 liquor and convenience stores. In all, more than 10,000 small businesses were adversely impacted.
Griego said that when RLA sunsetted in early 1997 after its five-year term, nearly 500 properties still remained vacant.
The damage was not limited to Los Angeles. An additional 300 buildings were damaged or destroyed by fire in north Long Beach. Several other communities around Southern California and as far away as Las Vegas experienced smaller-scale riots that damaged or destroyed buildings.
In the days and weeks after the unrest, RLA, under the leadership of former L.A. 1984 Olympics czar Peter Ueberroth, obtained commitments from 43 companies totaling $497 million to be directed to various rebuilding efforts, according to the organization's final report. The list was an impressive who's who of corporate Los Angeles at the time, including Arco, First Interstate Bank, Ford Motor Co., and Ralphs Grocery Co. About $390 million of those commitments were actually delivered upon by the end of 1996, the report says.
Prev Next