Upfront Ventures' Mark Suster Quickly Bought in to L.A.'s Future as a Tech Development Hub
Early Entry
Friday, April 7, 2017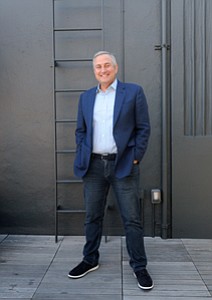 STATS | NAME: Mark Suster AGE: 48 HOMETOWN: Philadelphia
COMPANY: Upfront Ventures TITLE: Managing Partner
As a managing partner at Santa Monica's tech-focused Upfront Ventures, Mark Suster is responsible for the company's $1.6 billion in investments. Upfront was among the first investors in multichannel YouTube network Maker Studios, which sold to Walt Disney Co. for $675 million in 2014, and an early investor in online car shopping system TrueCar Inc., which went public that same year. Suster built and sold two companies, BuildOnline, a maker of cloud-based project management software for construction projects, and the Bay Area's Koral Technologies Inc., a content collaboration company that Salesforce.com acquired in 2007. Upfront was an investor in the latter, and managing partner and co-founder Yves Sisteron recruited Suster to join the firm in 2007. He became a managing partner in 2011 and takes care of the day-to-day operations of the 25-employee firm. He maintains an active social media presence and publishes a blog, Both Sides of the Table, about the world of venture capital.
Given your tech background, why stay in Los Angeles?
I came to L.A. for two years in 2007. I was going to open up a Silicon Valley practice for Upfront. But nine months in, I saw that would be crazy. I saw an emerging tech ecosystem here but almost no venture capitalists.
What do you think about the L.A. tech scene now?
What interests me about L.A is I think Silicon Valley took L.A. for granted for decades. What you have to realize is we created the monetization of the internet in L.A.
What was that progression?
Phase one of the internet was infrastructure. You couldn't build a product on the internet until we had databases. You couldn't build the internet until you had a browser. You couldn't build an application until we had widely available storage and a computing environment in the cloud. Just like building railways, airports, and deep water ports, the value goes above the infrastructure. That's what's happening with the internet and that's why L.A.'s having a moment.
How so?
Look at how most money is made on the internet. Most of it is made by Google and Facebook. And mostly in Google it's made through sponsored search. But Google wasn't the company that innovated it. It was innovated in town here by a company called Overture (Services Inc.). It sold to Yahoo for $1.6 billion dollars. It didn't become Google, but Google copied them.
For reprint and licensing requests for this article, CLICK HERE.
Prev Next