Hyperloop One Asks Public to Suggest U.S. Routes, Selects 11 Regions for Further Study
Thursday, April 6, 2017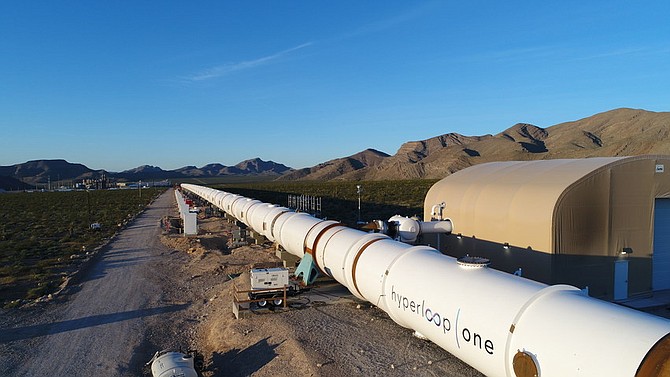 After receiving proposals from more than 2,600 individuals, downtown's Hyperloop One has selected 11 U.S. regions to study financing and construction of potential Hyperloop systems.
The company received the proposals as part of its Hyperloop One Global Challenge competition which began in May and solicited business plans for potential routes from volunteers. The 11 U.S. regional proposals will compete with 24 other teams from around the globe to be one of three final proposals that the company would study and possibly attempt to build.
Hyperloop technology is a vacuum tube transportation system some believe could whisk passengers and cargo along great distances at speeds far faster than airliners or bullet trains. Los Angeles has become a hotbed of Hyperloop startups since the idea was put forth by SpaceX founder and Chief Executive Elon Musk in a 2013 white paper. In addition to Hyperloop One, the area is also home to Hyperloop Transportation Technologies of Playa Vista and Arrivo of downtown.
Several routes proposed to Hyperloop One include a 257-mile track connecting Miami and Orlando; a 64-mile long route between Boston, Somerset, N.J., and Providence, R.I.; and a 121-mile track that runs from Los Angeles to San Diego.
"The journey time would be 12.5 minutes between San Diego and L.A.," said Nick Earle, Hyperloop One's senior vice president of global operations.
Such a Hyperloop system would change resident's perception of Southern California, he said.
Moreover, due to the speed it promises a Hyperloop system would also drastically change the way cargo is handled at local ports, on regional railways, and on interstate highways, he said.
"What that means for a retailer is that you could have your equivalent of Amazon Prime same-day delivery even though you're a small retailer," said Earle, adding that it would likely reduce trucking congestion. "We've estimated that Hyperloop could take 6 million truck journeys off the highways (in the US). It totally transforms supply change and distribution in a way that hasn't been possible before."
Technology reporter Garrett Reim can be reached at greim@labusinessjournal.com. Follow him on Twitter @garrettreim for the latest in L.A. tech news.