HEALTH CARE: FIRM OFFERS CUT SUITS AS REAL PLUS TO MEDICAL TRAINING.
Firm Offers Cut Suits as Real Plus to Medical Training
Friday, September 9, 2016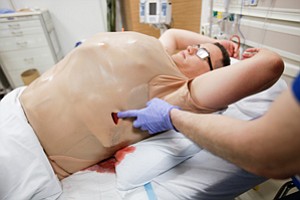 Doctors clad in head-to-toe surgical gear clustered around an operating table in a brightly lit room at Cedars-Sinai Medical Center. Lying in a pool of blood on the table in front of them was 30-year-old David Escobar, who just had a tracheotomy tube inserted into his throat as the doctors accessed his chest to control bleeding.
The only signs that this emergency surgery was anything other than real were the video cameras circling the patient and the smattering of onlookers craning their necks to watch the procedure. Escobar is, in fact, a technician at the Women's Guild Simulation Center for Advanced Clinical Skills, and he's donned a $60,000, state-of-the art surgical training apparatus called a Cut Suit so that new and veteran doctors can sharpen their knife skills.
"If you have a real human being laying there, in a real operating room, and they're cutting into what they think is a real person, that sticks in their mind," said Russell Metcalfe-Smith, health systems manager for the simulation center. "It doesn't have to be a real patient, but it's a real experience."
The Cut Suit has traditionally been used as a practice tool for military, law enforcement, and first responders, but an increasing number of medical schools and hospitals have been purchasing it for hands-on training. Cedars began using the suits a few months ago, investing in this new technology with the expectation it will pay off in both lives saved and reduced financial costs for patients, hospitals, and the health care system as a whole.
Medical error is the third leading cause of death in the United States, resulting in more than 250,000 deaths a year, according to a report released in May from Johns Hopkins University researchers.
Dr. Alistair Phillips, co-director of the Guerin Family Congenital Heart Program at Cedars, likened the necessity for medical simulation to that of pilots learning to fly. For example, Chesley "Sully" Sullenberger had practiced the famous emergency landing he executed on the Hudson River in 2009 in a simulation session prior to the actual event, said Phillips. While doctors can practice procedures on mannequins, the Cut Suit, worn by a live person, provides an added level of realism that allows residents to immerse themselves in the experience.
"Even though you're cutting into, basically a costume, … there's a person there," said Phillips. "Team-based simulation is the future of medical education."
Medicine meets Hollywood
Prev Next