Renovated LAX Terminal Debuts with $70.5 Million of Improvements
Thursday, October 20, 2016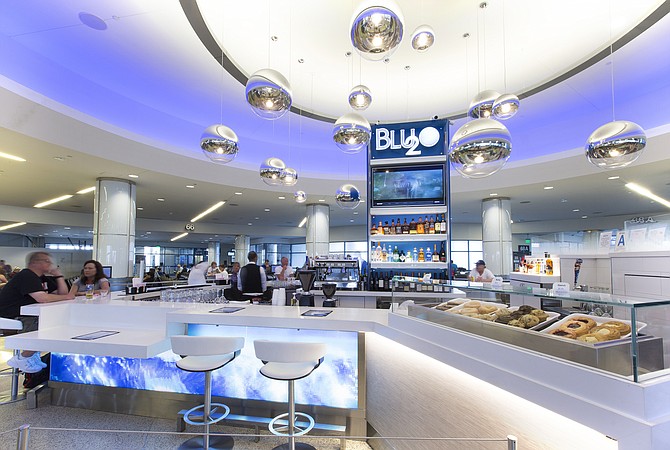 The Los Angeles International Airport debuted a freshly redesigned Terminal 6 on Wednesday, complete with Los Angeles-based retail and dining companies, and a vibe that's said to be inspired by Sunset Boulevard.
Los Angeles World Airports, Westfield Corporation, and other operating partners funneled $70.5 million into the upgrades, which include 22,299 square feet of restaurants, shopping, and common areas, and feature local companies such as Golden Road brewery's Point the Way Café. Newsstands are also branded with the names of L.A. institutions, including the Los Angeles Magazine News and Sunset News.
These improvements are expected to increase sales in the terminal - which includes Alaska and American airlines - by about 93 percent, according to a press release from Westfield.
The redevelopment took just shy of two years and was completed "ahead of schedule and under budget," according to the release.
"What you see here today in Terminal 6 marks a milestone in our efforts to transform LAX as part of our Modernization Program, the largest construction program in Los Angeles City history," said Board of Airport Commissioner Gabriel Eshaghian, in a statement.
The walk through Terminal 6 is "intended to recreate the drive from downtown to the beach," and includes a Sunset Strip zone packed with upscale retail options meant to embody the energy of West Hollywood, the release states. Shopping options will include technology and electronics brand, Belkin, MAC Cosmetics and luggage company, TUMI.
SSP America, a company that provides food services at airports throughout the country, will be operating the new Peet's Coffee & Tea and a Top Chef-fronted pizzeria, Osteria by Fabio Viviani.
"We'll serve almost 50,000 pizzas this year alone in a restaurant that truly is a stunning addition to T6. We're grateful for the opportunity to bring this incredible restaurant to LAX," said Michael Svagdis, chief executive of SSP, in a statement.
The renovations at Terminal 6, which include connecting three separate buildings into one revamped terminal, are just one portion of a larger, $8.5 billion modernization project taking place at LAX. The effort includes the new Tom Bradley International Terminal, renovations to six other terminals and improvements to airport roads and landing fields.
Legal reporter Hayley Fox can be reached at hfox@labusinessjournal.com. Follow Follow her on Twitter at @EPFox.