RESTRICTIONS PUSH CHINESE INVESTORS AWAY FROM HIGHER-PRICE SINGLE-FAMILY RESIDENCES TO CONDOS
New Home Base
Friday, October 7, 2016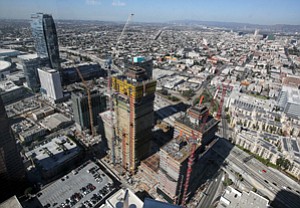 Chinese investors seeking to park their money in L.A. real estate have typically purchased single-family homes. But with the Chinese government doubling down on restricting the money that's allowed to flow out of the country, investors are beginning to turn to less-pricey condominiums.
That could be good news for Metropolis, a $1 billion project from Shanghai-based developer Greenland Holding Group rising on a 6.3-acre lot downtown. It is set to welcome its first residents by the end of the year and deliver 822 condos by 2018, making it one of the largest L.A. condo developments in recent years.
Greenland already counts on widespread customer loyalty in China as one of the nation's biggest developers and is vigorously marketing the project with sales teams in Shanghai, Guangzhou, and Beijing.
Eddie Chang, an executive vice president at Cathay Bank, said he began noticing a couple of years ago that Chinese homebuyers were beginning to consider condos rather than traditional houses.
"The high demand for luxury, big houses has been slowing down," he said. "Because the government is controlling the outflow of cash, it makes the affordability of condos look more desirable."
Sofia Padilla, marketing and sales director for Greenland's L.A. office, confirmed that Chinese nationals are among the buyers for the roughly 200 Metropolis condos in escrow, with prices ranging from $600,000 to $2.3 million.
But China isn't alone in producing buyers from abroad; foreign buyers are also coming from Brazil, Canada, Indonesia, Japan, South Korea, Mexico, Nicaragua, and Russia, she said.
"It's going to be home to everyone from all over," Padilla said. "We're not especially targeting any specific demographic."
Even at Metropolis' sky-high rates of roughly $1,100 a square foot, the condos are a steal compared with homes in Shanghai or Beijing, said Clayton Dube, director of USC's U.S.-China Institute.
"Real estate in China's biggest cities is just impossibly expensive," Dube said. "L.A., which most Americans would argue is unbelievably expensive, is a bargain by comparison."
And prospective buyers in China armed with fat pocketbooks might be particularly poised to regard Los Angeles, home of international icons such as the Lakers and top schools such as USC, as a prime destination.
"China's well-to-do increasingly think of themselves as members of the global community," said Dube. "They find real estate in the U.S. quite attractive." Chinese buyers pumped $27 billion into U.S. residential purchases between April 2015 and March of this year, according to the National Association of Realtors, making China the biggest foreign spender, followed by Canada and India. Chinese buyers paid about $937,000 a property on average, and often in cash. California claimed one-third of those purchases.
Prev Next