MANUFACTURING: HERSCH'S MOBILE TITLE PLAYS UP MARKETING.
Board Game Maker Gets Moving
Friday, November 18, 2016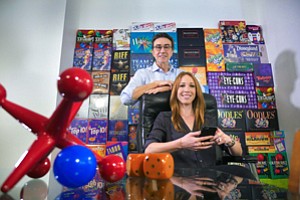 Century City's Hersch Games Inc. built its brand around popular board games such as Taboo, Scattergories, and Outburst – but now the company is thinking outside the box, literally.
Last month, Hersch launched its first mobile game, called EyeCons, which doubles as a marketing platform the company can use to generate additional revenue.
The tile-matching game has already attracted partnerships with the LA Auto Show, Anschutz Entertainment Group subsidiary Goldenvoice, and sponsored mobile data firm Syntonic of Seattle.
Hillary Hersch, senior vice president of Hersch Games, said the idea struck her when she served as director of operations and special events for the Hollywood Palladium, an entertainment venue operated by Live Nation.
"I found there was a disconnect not only between the venues and the fans, but also the advertising and sponsorship that we had in the building that were geared at entertaining them," Hersch said.
She saw venues and marketers were missing out on an opportunity to engage with fans – often glued to their smartphones – during intermission or breaks in the action at sporting events.
EyeCons features a matrix of tiles that players must match in a test of speed. The tiles can be branded with company logos or images, with players given an opportunity to win real-world prizes. Hersch Games charges clients a licensing fee and receives a percentage of any sponsorship revenue generated by clients through the app. Companies can also decide how long their version of the app is available.
For example, guests attending the LA Auto Show can download the branded LA Auto Show EyeCons app and play it during the event's 10-day run, which ends Nov. 27. Users are able to play the matching game and win prizes from automobile makers and sponsors, such as free merchandise and access to celebrity meet-and-greets.
Mike Wolfsohn, co-founder and chief creative officer at Culver City ad agency High Wide & Handsome, said the branded game is an interesting concept considering how many people use their phones during events.
"I've been amused for years now how when you watch or attend a Lakers or Clippers game the vast majority of people in the stands are on their phones, which is mind blowing when you think of the ticket prices for these kinds of events," Wolfsohn said. "I imagine (Hersch) will have varying degrees of success based on the demographic of the people in attendance."
Virtual touch
Prev Next