Plugging EVs
ENERGY: Program by SoCal Edison will add 1,500 charging stations.
Sunday, March 27, 2016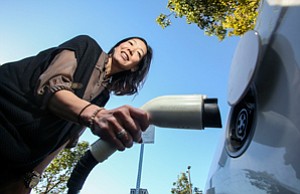 Southern California Edison wants to jump-start the region's electric car market.
The Rosemead-based utility has launched a $22 million pilot program, dubbed Charge Ready, to install 1,500 electric charging stations throughout Southern California. Installations will likely start this fall, pending approval from the California Public Utilities Commission, and will see chargers placed at locations where cars are parked for extended periods of time, such as workplaces, campuses, and apartment complexes.
"As more charging stations are available, people will become more comfortable with buying electric cars," said Caroline Choi, Edison's vice president for energy and environmental policy.
One of Edison's goals is to expand the number of stations in apartments, which it views as an underserved sector in the charging infrastructure.
That could prompt more people who live in those buildings to buy electric cars, said J.R. DeShazo, director of the Luskin Center for Innovation at UCLA.
"There are approximately 48,000 electric vehicles in the county, said DeShazo. "Almost all of those vehicles are owned by households who live in single-family residences," he explained, noting that residents of multiunit buildings are less likely to be in the market for such cars due to the lack of in-building charging stations.
If the pilot program is well-received by consumers, Edison will increase the number of charging stations throughout the region to about 30,000 at an estimated cost of $355 million.
Other utilities in California have similar plans. Sacramento's Pacific Gas and Electric Co. is awaiting approval for a reported $160 million proposal to install 7,600 charging stations in Northern California. And in January, the CPUC approved a $45 million plan from San Diego Gas & Electric to place 3,500 electric vehicle chargers at 350 sites.
Edison has estimated the construction cost to run wiring to a charging station area, including trenching concrete within a parking structure and laying wire, would be about $8,600. A spokesman for the utility declined to comment on additional costs, such as the price of charging station equipment and grid hookup.
As part of the Charge Ready program, Edison would share the installation cost with the property owner, with the utility covering 25 percent to 100 percent of the cost, with owners in disadvantaged neighborhoods getting the full discount.
Placement of charging stations would depend on demand from building owners, who will be able to apply to participate in the program in the coming months. Rate discounts are available for charging cars at night, and for specially metered electric lines dedicated to EV charging. Those meters can cost $1,500 and up, but offer a lower rate compared with standard usage meters.
For reprint and licensing requests for this article, CLICK HERE.
Prev Next