Caregiver Firm to Change Status
HEALTH CARE: HomeHero to shift contractors to full-timers.
Monday, March 7, 2016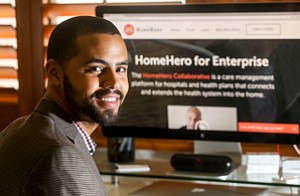 Online elderly caregiver marketplace HomeHero of Santa Monica last week started offering full-time jobs to its 1,200 independently contracted workers – one of the biggest such shifts in workforce status by a tech startup in memory.
HomeHero said the switch is part of an effort to sign lucrative in-home care deals with hospitals because employees, not contractors, are necessary for that work. Still, the massive hiring effort touches on a fierce debate surrounding the employment status of workers.
The company, which had only a 30-person staff, works kind of like Uber. Instead of matching contract drivers with ride seekers, HomeHero matches in-home caregivers who work as independent contractors with elderly clients through an algorithm and by facilitating online video interviews.
However, under IRS rules, HomeHero could not direct independent contractors to complete health care checklists or follow strict patient privacy guidelines, which the company needs to do in order to win hospital business, said HomeHero Chief Executive Kyle Hill.
"The data collection that we want to do, to truly integrate ourselves into the hospitals, particularly accepting patient health data and sending information back to the (electronic medical records), that would require W-2 employee status," said Hill. "We instruct the caregivers to collect an enormous amount of information about the patient after the shift is over. You can't do that with 1099 (nonemployee) workers."
Yet HomeHero's decision to categorize caregivers as independent contractors at all is suspect, according to several labor lawyers and the caregiver industry experts.
"This sounds an awful lot to me like it is misclassification," said Tia Koonse, legal and policy research manager at the UCLA Labor Center, noting that it would be tough for HomeHero to continue to use the independent contractor status, even without hospital contracts. "It is exceptionally rare that I see any court or labor hearing officer decide that any caregiver is an independent contractor. In this industry, almost every single worker is an employee."
The IRS allows workers to be designated as independent contractors, or 1099 tax-form status, if employers maintain the right to control or direct only the result of work, not what will be done and how it will be done. For a business to exert greater control over a worker, it must designate an individual as an employee, or W-2 tax-form status, and pay health care, Social Security, workers compensation and other taxes.
But HomeHero argues those provisions haven't applied to them at all until this point because the company acts as a domestic referral agency for clients and caregivers.
Prev Next