New FAA Rules Offer Lift to Drone Businesses
AVIATION: Guidelines cut back on requirements for pilots, reduce paperwork.
Friday, June 24, 2016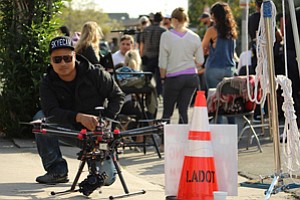 Second Office
Though its Pasadena headquarters sits close to engineering powerhouses Caltech and Harvey Mudd College, online advertising marketplace OpenX decided to plant a flag in Culver City.
"Los Angeles is geographically diverse and that makes it really difficult if you are recruiting to one location," said Doug McPherson, its chief administrative officer.
The technology firm opened an office in Culver City last week to accommodate about 35 employees and help recruit more engineering talent from the Westside.
"We are looking for a broad set of software developers," McPherson added. "Right now recruiting is one of the biggest factors for our growth."
OpenX's revenue increased 40 percent last year to more than $140 million. To match its growing business, it has been on a hiring spree. The company has added 150 employees since the end of 2014, bringing its total head count to 500, McPherson said.
Ultimately, OpenX didn't look at many at other locations on the Westside apart from Culver City, and it ignored Santa Monica entirely.
"We want an office that is centrally located," he said, noting the city's proximity to the 10 and 405 freeways. "Culver City has lots of restaurants, amenities, and the Expo Line runs through there now."
Home Care
Hospital system Cedars-Sinai Medical Center and online elderly caretaker marketplace HomeHero of Santa Monica have launched Safe Transition Home, a program designed to transition patients from hospital care to in-home care.
By caring for patients in their homes rather than costly hospital rooms, the program aims to reduce inpatient readmissions, increase patient satisfaction, and improve health outcomes, all while reducing care health care costs. HomeHero's caregivers will assist customers with personal care, housekeeping, and medication management.
In particular, the program will be targeting cost reductions mandated by the Affordable Care Act and Centers for Medicare and Medicaid Services regulations. Health care providers can face steep fines when patients are readmitted within 30 days and are encouraged to create bundled payment systems emphasizing value-based care.
Staff Reporter Garrett Reim can be reached at greim@labusinessjournal.com or (323)549-5225, ext. 232.
For reprint and licensing requests for this article, CLICK HERE.
Prev Next