Immunotherapy Cancer Treatment Taking Flight
BIOTECH: Kite's state-of-art facility puts research on fast track.
Friday, July 29, 2016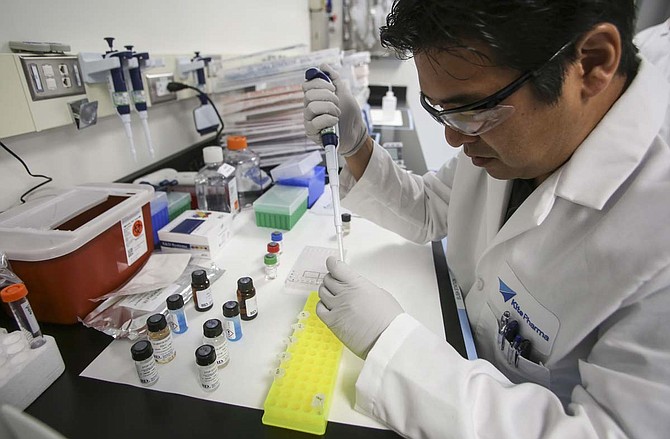 Kite Pharma Inc.'s unassuming 43,500-square-foot manufacturing lab, tucked in among block after block of single-story light industrial buildings in El Segundo, belies the potentially revolutionary science taking place inside.
Cloaked in head-to-toe protective gear, lab workers are methodically testing the process and equipment used in the production of KTE-C19, an immunotherapy treatment designed to treat several types of lymphoma.
For Dr. Arie Belldegrun, Kite's founder, the R&D behind its signature treatment is only a first step.
"We set up Kite to focus on curing cancer," he said.
The U.S. Food and Drug Administration has designated the treatment as a "breakthrough" therapy, a label reserved for drugs that treat serious illnesses and have been shown, through clinical evidence, to "demonstrate substantial improvement over existing therapies." The classification means Kite, which employs roughly 100 people at the El Segundo location, will have its processing fast-tracked, potentially slicing about three months off the process.
Kite spent about $30 million on construction and equipment purchases for the new space on Utah Avenue, which opened in June, with the idea of doing all manufacturing in house.
Security is tight there as every closed door requires a swipe of a staff identity card, the facility is spotlessly clean, labs are temperature controlled, and bugs are kept at bay by high-tech machines in every corridor.

The company expects its T-cell modifying therapy to hit the commercial market by 2017 and analysts are projecting that just three years after its release Kite could be generating sales of nearly $1 billion a year.
While Kite is not alone in the race, with competitors such as Seattle's Juno Therapeutics also researching and developing immunotherapy cancer treatments, Belldegrun's company appears to be closest to reaching the finish line. It plans to file an application with the FDA by the end of this year to get approval for commercialization of the product.

Medical pioneers
Kite was founded in 2009 by Belldegrun, an oncologist and professor of urology whose lengthy resume includes board positions with multiple biopharmaceutical companies, a research fellowship with the National Cancer Institute, and a current role as director of the UCLA Institute of Urologic Oncology at the David Geffen School of Medicine.
It was in 2010 that Belldegrun, along with a group of other UCLA professors, were brainstorming new approaches for cancer therapy when they came across a technology developed by Dr. Steven Rosenberg of the National Cancer Institute in which a patient's own immune system is genetically engineered to recognize and destroy their cancer cells.
Prev Next