Food Entrepreneurs Have Menu for Underserved
DINING: Everytable seeks to bring health, equity to fast food in poorer locales.
Friday, July 29, 2016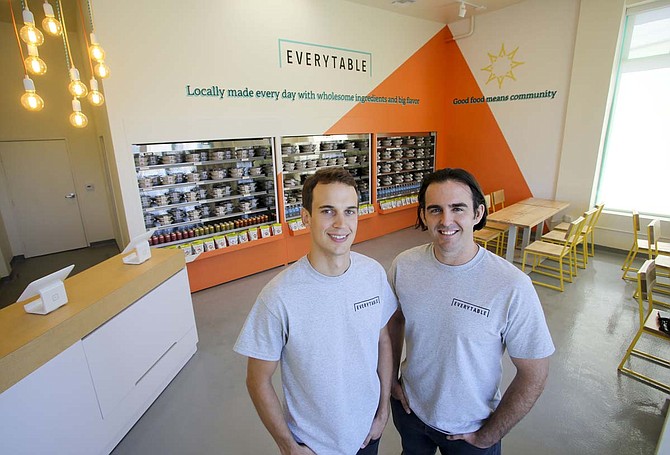 A clean, white-walled restaurant with large windows trimmed in turquoise stands out among the local mom-and-pop shops with graffiti-lined walls in South Los Angeles.
The space is occupied by grab-and-go restaurant Everytable, which opened last week. But the eatery's modern look isn't the only thing turning heads. Everytable is employing a variable pricing model, offering meals to low-income communities for $4 while planning to charge $8 for the same item at stores in more affluent neighborhoods.
Sam Polk, co-founder and chief executive of Everytable, said the idea was to offer families healthy food that could be picked up in a pinch.
"We started to think – is there a business model that could work that could bring in healthy food at a more affordable price than a McDonald's?" said Polk, who launched the company with David Foster, who had been a vice president at Westwood private equity firm Aurora Capital Group.
The quick-serve restaurant offers food prepared off-site, offering diners a selection of cold bowls such as its Kale Chicken Caesar Salad with cherry tomatoes and whole-wheat croutons, as well as hot bowls including a Yucatan chili with mushroom and zucchini that can be heated up in a self-serve microwave inside the shop.
Everytable is joining a growing number of restaurants in South Los Angeles offering inexpensive, healthy food, including Roy Choi and Daniel Patterson's Locol in Watts, and With Love Market & Café near University Park.
However, Everytable's pricing structure presents unique challenges requiring the owners to trim budgetary fat. That means food is prepared in a central kitchen and store employees are capped at two.
The model also necessitates scale. Everytable's second outpost in downtown will open in November with bowls priced at about $8. Foster said the company has been able to raise enough investment to open at least four more locations, which it hopes to do early next year in cities such as Inglewood, Santa Monica, and West Hollywood. Foster and Polk declined to say how much had been raised but did say the money was provided by an initial seed round from more than 50 investors that included New York venture capital firm Lerer Hippeau Ventures and Toms Social Entrepreneurship Fund.
Everytable will determine pricing at each store based on an analysis of per-capita income data for each ZIP code.
Foster pointed out that even its $8 items will cost less than meals found at similar eateries in Santa Monica or Culver City. And even at $4 in South Los Angeles, he said Everytable would make a profit on each sale, albeit a small one.
For reprint and licensing requests for this article, CLICK HERE.
Prev Next