At Home
TECHNOLOGY: Vet execs give guidance to furniture-buying app.
Friday, July 15, 2016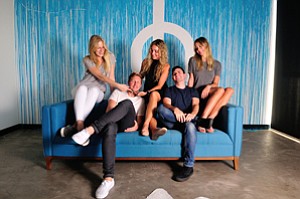 When three interior design students at George Washington University started a business advising friends on how to furnish their apartments, they realized people their age wanted help even though they couldn't afford an interior designer.
Now, a group of high-profile L.A. tech entrepreneurs, including Tinder's Sean Rad and Ben Silverman of Electus, have backed the trio's West Hollywood startup Homee, which launched earlier this month and closed a $5 million Series A round from Peter Thiel's Founders Fund.
The company's plan, said co-founder and Chief Executive Beatrice Fischel-Bock, is to upend the $213 billion furniture market through an app that provides users with design concepts based on photos of their rooms and allows them to order furniture through their phones. Designs are made by Homee employees.
Much of the company's momentum resulted from the involvement of Rad, Tinder's chief executive, who saw Fischel-Bock, Madeline Fraser, and Lizzie Grover pitch their company on the ABC show "Shark Tank" in May of last year.
Rad reached out to Fischel-Bock on Facebook and later bought an undisclosed stake in the company, introducing her to investment firms Foundation Capital and Founders Fund Angel, along with a group of L.A. entrepreneurs who put up a combined $2.2 million in seed money in the fall. Those investors include Silverman, founder and former chairman of West Hollywood multimedia company Electus, which, like Tinder, counts IAC as a majority owner. Scooter Braun, an L.A. talent manager and record label owner who represents A-list stars such as Justin Bieber and Kanye West, also invested alongside his wife, Yael Braun, who started the organization Fuck Cancer.
"All I did was make the introductions," said Rad. "I'm an advocate, which helps give other investors further confidence. This is really about me investing in things I'm personally passionate about and care about, irrespective of economics."
While Homee used the seed money raised last year to prove the concept and obtain offices, the latest infusion will allow the company to scale up by hiring more engineers and designers beyond its existing staff of 25, which includes Ben Broca, chief technology officer, and Ethan Gromet, chief design officer. The company plans to make the service available through Facebook Messenger soon and eventually as an Android app.
Fischel-Bock declined to disclose specific financial figures, but said Homee's revenue had grown 700 percent during the 10 weeks leading up to the July 6 launch while the app was still in beta. Homee makes money through a markup on furniture costs charged to the customer. Fischel-Bock said about 20 percent of Homee's users buy furniture through the app, though she declined to say how many users there are.
Prev Next