DEVELOPER LOOKS TO PUT NEW MUSEUM ON DISPLAY
Lofty Goal
Originally published February 22, 2016 at 9:20 a.m., updated February 22, 2016 at 9:20 a.m.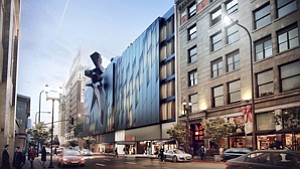 Profits from the café planned for the Bankhouse Garage rooftop, however, will help fund the museum. Ultimately, the Main Museum will be a separate, nonprofit entity from Gilmore Associates, he said.
"This isn't a real estate play for us; it's a philanthropic venture," Gilmore said. "It's about investing really deeply in the neighborhood and stabilizing the neighborhood in a way that most people don't think about stabilizing a neighborhood."
The ultimate goal, he said, is to provide a place for L.A. artists to showcase their work without having to worry about being driven out by commerce.
"I wouldn't call it losing money, but we expect to be a part of the support for it on an ongoing basis," Gilmore said, adding that the nonprofit will also raise money through donations.
Gilmore has already hired Allison Agsten, who formerly served as the curator of public engagement at UCLA's Hammer Museum in Westwood, as director of the Main Museum. She will be in charge of organizing the revolving art exhibits, he said.
Gilmore's unorthodox vision won't be without its challenges though, said Jerry Neuman, a partner in the downtown L.A. office of law firm Liner who's familiar with the project but not involved in it.
"They have to ensure the buildings are capable of sustaining the types of uses they're looking to do, in terms of structural stability," said Neuman, who specializes in real estate and land use. "They're trying new things and anytime you do that, getting through the building and safety process is tough."
Even so, Neuman said he's confident Gilmore can pull it off.
"It's both very achievable and necessary for this area," he said. "The idea of bringing a museum that focuses on local artists and looks at Los Angeles and its contribution to the world of art is really an amazing thing."
Heating up
Meantime, at least three other buildings in the neighborhood are listed for sale, including the H.W. Hellman and Title Insurance buildings and the Barclay Hotel.
Kennedy Wilson's Cordova is the primary leasing agent for the H.W. Hellman building, which might be better known today as the Banco Popular building, at 354 S. Spring St.
Developer Allen Gross owns that building and has announced plans to build 188 apartment units and a rooftop pool. That plan, however, is far from chiseled in stone.
"He's moving forward with his multifamily project. However, we are talking to several hospitality users who might come in and take that space instead," Cordova said. "It is for sale, but Allen would sell it for the right price to a hotel group."
The oldest L.A. hotel in continuous operation, the Barclay at 103 W. Fourth St., has also been listed for sale.
Similarly, the Title Insurance Building at 433 S. Spring is available for sale, too. Cordova, who isn't listing that one, anticipates it could be used for a hotel, residential units or creative office space.
"You have an incredible reinvigoration going on, and you're going to have properties right now that I would say are going to triple or quadruple in value," Cordova said. "Three years from now, the Old Bank District will be on fire."
Prev Next