REGULATION: JAN. 1 WILL KICK OFF STRING OF WAGE HIKES ACROSS STATE.
Paying Up
Friday, December 16, 2016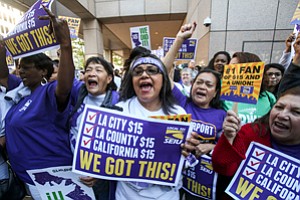 The new year will ring in a new set of wage and hour laws and regulations that are bound to create bookkeeping and compliance headaches for many companies.
For L.A.-area employers, tracking the minimum wage will once again be the dominant concern among the raft of laws taking effect Jan. 1.
That's when the statewide minimum wage will rise to $10.50 an hour – the same rate employers in the city of Los Angeles and unincorporated Los Angeles County are already paying. The increase is the first tangible result of a bill Gov. Jerry Brown signed into law earlier this year.
But if local employers think all they have to do in the coming year is comply with a single increase, they could find themselves in trouble. In several cities – Los Angeles, Santa Monica, Pasadena, and West Hollywood – as well as unincorporated areas of the county, the minimum wage will rise to $12 an hour for businesses with more than 25 employees, starting July 1. Businesses with 25 employees or fewer will still be paying the statewide minimum of $10.50.
Businesses with multiple locations in the county could find this patchwork challenging, said Erika Frank, vice president of legal affairs for the California Chamber of Commerce, or CalChamber.
"With all the new laws passed this year, what seems to be the most complicated issue for employers is keeping track of the new state minimum wage as well as local minimum wages and ensuring employees are being paid properly," Frank said.
Businesses will have to get used to it. Minimum-wage increases will be hitting some employers in the county every year until 2022.
Payroll headaches
The moving target that is the minimum wage is but one payroll issue that will kick in Jan. 1. AB 2899 will require employers who challenge a state Labor Commissioner's Office ruling that they have violated wage and hour laws to post a bond equal to the amount in dispute. Another law, SB 1342, will give local elected and appointed officials more authority to issue subpoenas to employers suspected of wage and hour violations and then turn over any information about employer noncompliance to Superior Court judges.
Yet another law, SB 1063, will prohibit an employer from paying any employees wage rates that are less than those paid to employees of another race or ethnicity for substantially similar work. This is a companion bill to a law passed last year requiring gender equity in pay.
Prev Next