Immigrant Developer Rebuilt Life in Los Angeles
REAL ESTATE: Late exec Jona Goldrich, 88, found success with apartments.
Friday, August 26, 2016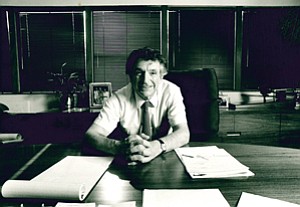 Today, Goldrich Kest owns 70 affordable apartments, the majority dedicated to seniors. It also owns 24 senior living facilities.
While the company would like to continue offering affordable units, President Carole Glodney said new government funding programs have made that very difficult. The company also owns nine mixed-use properties, seven commercial buildings, 16 retail sites, and 26 industrial properties. The company holds about $4 billion in assets and generates more than $300 million in revenue a year.
Freshening up
One of Goldrich Kest's biggest ongoing rehab projects is Grand Promenade on Bunker Hill, a 390-unit apartment tower on Grand Avenue it built in 1988 that is now in the center of a Bunker Hill neighborhood whose cultural prestige has grown.
"Part of our doing this was to be competitive," said Glodney, who has been with the company since 1972. "The building opened in the late 1980s and concepts are different."
The renovation is expected to be completed at the end of next year.
Acquisitions, for the most part, are on hold, unless a property is in California and can prove its potential for long-term worth. Goldrich Kest has purchased only a couple of properties in the last year, one in Covina and the other in West Covina.
"We're not flippers," said Glodney. "That's why we really vet a property when we go to purchase."
The company has a few ground-up developments underway, two apartments, a retail project, and a hotel in Newport Beach.
Both Drandell and Glodney say they treasure lessons learned from Goldrich decades ago.
"He'd always say, 'Treat it like it's your money.' Or, 'Pretend you're Jona Goldrich, what do you want to do?'" Drandell recalled. "If you think about it, that's a pretty big statement for somebody who runs a big, giant company, who's willing to take some punk kid and say … What would you do in my situation?"
For reprint and licensing requests for this article, CLICK HERE.
Prev Next