Industrial Zone
Richard S. Ziman still likes sector's strength, stability despite increased competition with retail, residential
Friday, August 19, 2016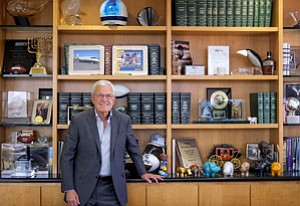 Los Angeles County has nearly 800 million square feet in industrial space, of which about 1 percent is vacant. That's good news for Richard S. Ziman, the effusive real estate veteran whose Rexford Industrial Realty Inc. owns or manages more than 15 million square feet of industrial stock in Southern California. Rexford, a publicly traded real estate investment trust, spent about $200 million to add 11 properties to its portfolio last quarter, a period in which revenue and net operating income jumped about 37 percent compared with the year-earlier period. Rexford, however, is only a slice of Ziman's contribution to the real estate world. He began his career as a real estate attorney, started buying buildings in the 1980s, and went on to found Arden Realty Inc. in 1991. It became the largest office landlord in Southern California and was sold to General Electric for $5 billion in 2006. Ziman pledged $5 million to establish the Ziman Center for Real Estate at UCLA in 2001.
STATS
NAME: Richard S. Ziman
AGE: 74
HOMETOWN: Williamsport, Pa.
COMPANY: Rexford Industrial Realty Inc.
TITLE: Chairman
What's the biggest change you've seen in the market since you formed Arden?
Real estate as a publicly traded commodity by and large didn't exist before 1990. It's finally been recognized as an important commodity in the marketplace. Shortly, real estate will have its own sector in the S&P 500.
What prompted that change?
The father of modern real estate, Sam Zell, a guy who really promoted what he called the "liquidification" of real estate.
What impact will the advent of the S&P real estate index have?
More buyers and sellers; force the price of the stock up. This industry has transposed itself into a large, dynamic, regulated, transparent enterprise with public access and liquidity.
Why did you make the switch from office to industrial?
Industrial was a good, solid, basic investment. They have the least amount of management requirements; easier than office, apartments, shopping centers. But office buildings are much more of a commodity and people liked them. I think it was the phallic symbol. They're big and they're beautiful.
But you did spend a lot of time in that market. Any surprises since you left it?
Downtown is a huge success. But there are no schools, there are no amenities for families. When families begin to become an issue, are they going to stay downtown? Or will it be backfilled by single people? I don't know. When I had 20 million square feet with Arden and was the largest landlord in Southern California, I didn't own one square foot downtown.
For reprint and licensing requests for this article, CLICK HERE.
Prev Next