Show Blows Rams' Horn
TV: HBO series gets up close for homecoming.
Friday, August 12, 2016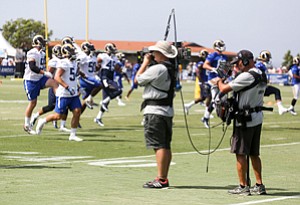 When professional football comes back to Tinseltown after more than two decades away, the cameras follow.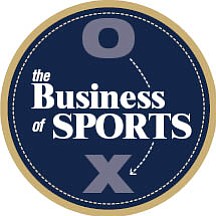 Before they kick off the regular season on Sept. 12, the Los Angeles Rams will already have become prime-time TV regulars as stars of HBO's "Hard Knocks: Training Camp With the Los Angeles Rams," produced in collaboration with NFL Films. The series debuted Aug. 9.
The league's signature documentary program has had unlimited access to the team this summer as its players and personnel have been hard at work at training camp on the campus of UC Irvine after their return to Los Angeles from St. Louis.
"Hard Knocks" also offers a Hollywood training camp for the teams' newly minted stars – 2016 overall first-round draft pick Jared Goff at quarterback and 2016 AP Offensive Rookie of the Year Todd Gurley – as they adjust to the limelight associated with playing in the country's second-largest media market.
"We have one of the youngest teams in the NFL," said Kevin Demoff, the team's chief operating officer. "I think from a brand perspective and an organizational perspective, it's a great reminder that wherever you go in Los Angeles, there are cameras everywhere."
HBO gave "Hard Knocks," which has won 14 Emmy Awards in its 10-season run, the star treatment this year when it kicked off its 11th season last week. The cable network, NFL Films, and the Rams hosted a special red (gold) carpet premiere Aug. 9 at downtown's L.A. Live complex with a screening, panel discussion, and after-party at the Conga Room club. Former Rams player Eric Dickerson was in attendance, along with General Manager Les Snead and HBO Sports principals to celebrate the show and the team's return to Los Angeles.
"There's been a ton of media attention and local fan attention," said Demoff. "It's a great way to introduce both the community and the nation to our players."
Introduction needed
Such an introduction might be necessary. In a memorable scene from the show's premiere, Gurley – who rushed for more yards than any other rookie player in the league last year – told reporters that people still don't recognize him on the street except as "the guy from the burger commercial," referencing his TV spot with actor Jay Mohr for Carl's Jr.
"The players have been great. They understand they are football players, not actors," said Jeff Fisher, Rams head coach.
Still, the backdrop of a city embracing a team of stars in the making is exactly what the producers at HBO and NFL Films hoped for when the Rams were tapped for the show. Neither players nor staff are compensated for being on the show, which is essentially a marketing vehicle for the team and National Football League. This year, as the league returns to a major market after a two-decade absence, it is an important vehicle, according to Demoff.
Prev Next