ENERGY: PLAYA DEL REY GAS WELLS UNDER REGULATOR REVIEW.
Leak Fear Rises
Tuesday, April 5, 2016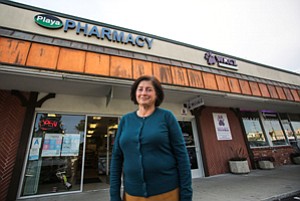 Anneliese Anderle, who retired as a senior supervising engineer for the state Division of Oil, Gas, and Geothermic Resources in 2014, had inspected the Playa del Rey site. She said there is a higher risk of a gas leak at the facility because some of the wells there are older than those at Aliso Canyon.
"Everything is gleaming on the surface, but underground everything is falling apart because it was not regularly maintained," she said.
In an emailed response to questions about the storage facility, SoCal Gas spokeswoman Melissa Bailey said 31 of the 54 wells in Playa de Rey are active and equipped with surface safety valves.
Just nine of the wells have subsurface safety valves, however, and Anderle said the surface valves in place on the majority of the Playa del Rey wells would not protect against a major leak such as the one in Aliso Canyon.
"Surface safety valves give you the protection only if you have an incident such as a truck hitting a well and knocking it off," she said. "But if you have a subsurface safety valve, it would immediately shut the well down."
SoCal Gas said it planned to install subsurface safety valves at nine additional wells by the end of this year.
Potential problems 
SoCal gas bought what had been an oil field from Texaco in 1975 and converted it to a gas storage facility. Today, the property sits on a reservoir of 2.6 billion cubic feet of natural gas in 54 wells – some that date to 1934 – stretching along the Ballona Wetlands.
The Playa del Ray facility has seen problems in the past.
From 1959 to 1981, it experienced 10 gas leaks, including some from wells that experienced recurring seepages, according to California Public Utilities Commission records.
In 2003, a malfunctioning emergency shutdown valve caused a leak, leaving nearby homes, cars, and yards covered in oil. A 2013 gas release sent smoke and flames soaring into the air in what a SoCal Gas spokeswoman called "an unplanned release of natural gas."
"Our main concern is that the facility is not properly maintained," said Geoff Maleman, business representative for the Neighborhood Council of Westchester and Playa del Rey. "We should make the public aware of it and confront SoCal Gas to make sure they comply." 
Al Tipon, senior director of facilities management at Loyola Marymount, said he has occasionally smelled gas on the campus.